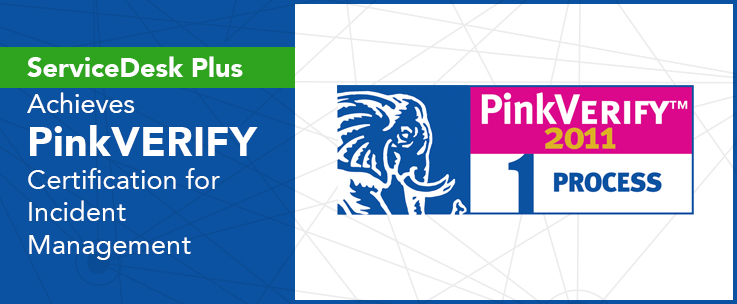 It's been a great year for ServiceDesk Plus. We made it to the Gartner Magic Quadrant for the second time in a row. And, today, we are glad to announce that ServiceDesk Plus is PinkVERIFY-certified. The PinkVERIFY program is an internationally recognized  IT service management (ITSM) toolsuite assessment service from Pink Elephant, a global leader in ITIL consulting,education, and conferences. ServiceDesk Plus, ManageEngine's flagship product, is now certified for ITIL® V3 compatibility for incident management.
What is PinkVERIFY?
PinkVERIFY is the world's only independent IT service management (ITSM) tool certification program that helps organizations identify the best tools to fulfill their ITIL needs.
To be PinkVERIFY-certified, any product  must satisfy the program's mandatory and integration criteria.
ServiceDesk Plus's incident management process was thoroughly assessed against ITIL-compatible product features, terminologies, workflow, and functional requirements.
David Ratcliffe, president of Pink Elephant said, "Congratulations, ManageEngine! ServiceDesk Plus v9.0's PinkVERIFY certification for incident management means organizations can have confidence that ITIL best practices are easier to follow and exploit at their service desk. It is also great to see ManageEngine showing ongoing commitment to ITIL this way too. Thank you and well done!"
What does this certification mean to us?
With numerous help desk software on the market that claim to support the ITIL framework, selecting the right software can be a daunting task for IT organizations. However, with certifications like PinkVERIFY, IT organizations find it easy to pick the right product. PinkVERIFY certification for ServiceDesk Plus means that the product is  functionally mature, and that IT organizations can now easily identify the right ITSM product.
After rigorous evaluation by PinkVERIFY, ServiceDesk Plus has been certified as ITIL-compliant. This is indeed an important milestone for us because it reaffirms our commitment to quality and the ability to serve our customers.