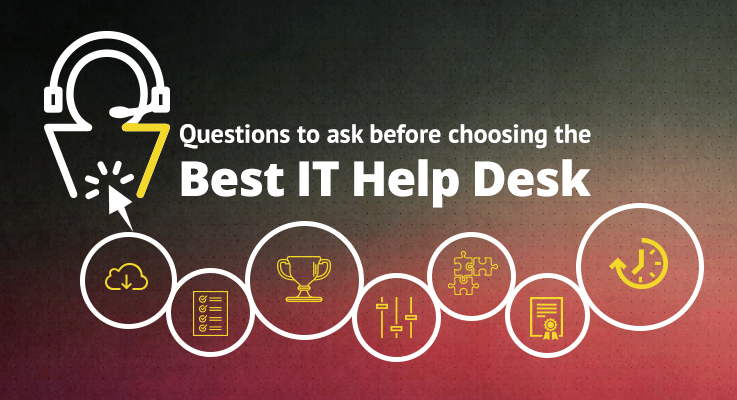 ​An IT help desk ensures seamless end-user experience by centralizing and automating service management processes. The right IT help desk improves productivity, guarantees end-user satisfaction, cuts costs, and aligns IT with business. Here are the seven questions you must ask when choosing an IT help desk for your organization.
Cloud or on-premise?
A cloud-based help desk requires less capital, can be deployed quickly, ass​ures hassle-free upgrades, and provides scalability. ​On the other hand, on-premise models provide better control over data security and software. ​The cloud-based model is suited for small companies, whereas the on-premise model is well-suited to meet the demands of large enterprises. 
Does it have a robust feature set?
Today, help desk software comes with a dizzying array of features and functions. Here are some pointers to help you find the one with the right feature set:
Analyze the gaps in your current IT support.

Identify the core IT service management processes that you want to implement in the short, medium, and long term.

Prioritize and sort out the critical IT service management processes.

Narrow down your choice by soliciting RFPs (requests for proposals) from the v​endors.

​Investigate the availability of real-time dashboards, mobility, social enablement, app development platforms and other features that will give your organization a winning edge.  
Can you implement best practices?
With the right help desk software, you'll be able to implement ITIL best practices out of the box. So check whether your help desk facilitates optimized ticket routing; better communication between the IT staff and end users; streamlined SLAs; reporting on KPIs; and work flows for incident, problem, change, and release management. Also, you'll want to find the number of core ITIL processes the help desk can support.
Is it customizable?
Customization gives an organization the opportunity to incorporate its internal process work flows into the help desk. Check whether customization is possible with email templates, web forms, business rules, SLAs, knowledge base, and dashboard themes. This will bring advantages such as faster request submissions and ticket resolutions, streamlined knowledge base, tailored dashboards, and personalized communication with end users.
Does it integrate seamlessly?
The IT help desk software in any organization must seamlessly interact with and complement other applications in the environment through APIs. So while selecting your help desk software, check whether it can integrate with applications such as network and application monitoring tools, asset management systems, and Sharepoint portals. This will ensure smooth information flow and reduce communication redundancy.
Is the vendor credible?
Evaluate your vendor's credibility by checking the company's reputation, size, and number of years in business. Read analyst reports and position the vendors in the ITSM landscape. Seek feedback about the vendor from organizations that have already used its products. Here, case studies, customer testimonials, and direct customer interactions come in handy.​
Will you get continuous support?
Effective product support is crucial to a successful help desk implementation. Therefore, vendor support in the form of product training, best practice consultations, post-implementation issue handling, and prompt fixes for bugs will make all the difference to your IT service. The vendor teams should be reachable around the clock and respond positively to feature requests and feedback.
Don't just settle for any help desk. Ask yourself these seven questions; narrow down your choices; and find the perfect help desk solution that fits your business needs.