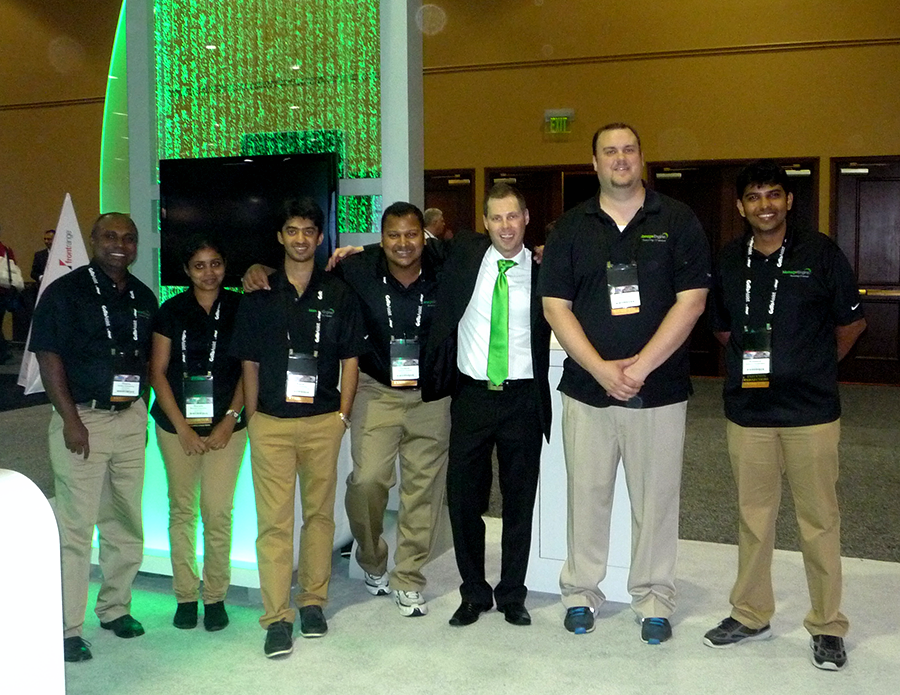 This year, HDI was held in Orlando, Florida, which carries the nickname "The City Beautiful." Attending the conference for the umpteenth time, we strongly feel that HDI should adopt the moniker " The Conference Beautiful." It was truly a wonderful experience for all of us here at ManageEngine. With scores of people visiting us at our booth, it was a time of introductions, conversations, and intense learning.​
One of the highlights of HDI 2014 was our very own infotainer, Anders Boulanger, who was a busy man the entire time, showing visitors how to remove complexity and strike gold in their IT service management operations with a world-class solution ​like ServiceDesk Plus. There's so much magic to be experienced in ITSM, and Anders sure had his way of telling people that!
We had so many of you, our customers, stop by to chat, and we are very thankful to you for visiting us. To paraphrase ​Gandhi, seeing you reminds us that you are part of us, the very purpose of our work, and you are doing us a favor by giving us an opportunity to serve you. We're grateful for all the compliments and feedback you gave us!
While product pitches, sales talk, and lead scanning are all ​an integral part of every exhibition for a vendor, this particular conference — the first since we announced the free Standard Edition of ServiceDesk Plus ​with ITIL-ready incident and knowledge management — helped us do something different. Beyond the demos and freebies, ​we were all excited to share the offer of our free (without restrictions) Standard Edition of ServiceDesk Plus with all those who needed it, on the spot ​without ​delays. ​Boy, did that generate a lot of surprise and​  smiles!
One conversation went like this:
​​Visitor : Seriously, you guys offering incident and knowledge management for free?
ManageEngine: Yep, we are.
Visitor : What's the catch?
ManageEngine : None at all!
Visitor : Can I take 5 licenses to start with?
ManageEngine: How many would you need for all of your team?
Visitor : 50, do you guys give out so many?
ManageEngine: Okay, we've issued you 50 licenses of ServiceDesk Plus for a year
​At this point we helped the visitor pick his jaw back up off the floor.
That's ITSM magic for us: making a difference in organizations' IT service desks, ​right then and right there. And what made the experience beautiful? The sheer satisfaction we got from conference attendees' reactions of surprise and delight.
​You're happy. We're happy. Simple as that!
Yes, our feet ached, and some of us were jetlagged from the 6,000 mile journey back home​.  But in the end, it was definitely worth it. We loved doing our bit to create a magical help desk experience for you, right there in the City Beautiful​ at HDI 2014, the Conference ​Beautiful!