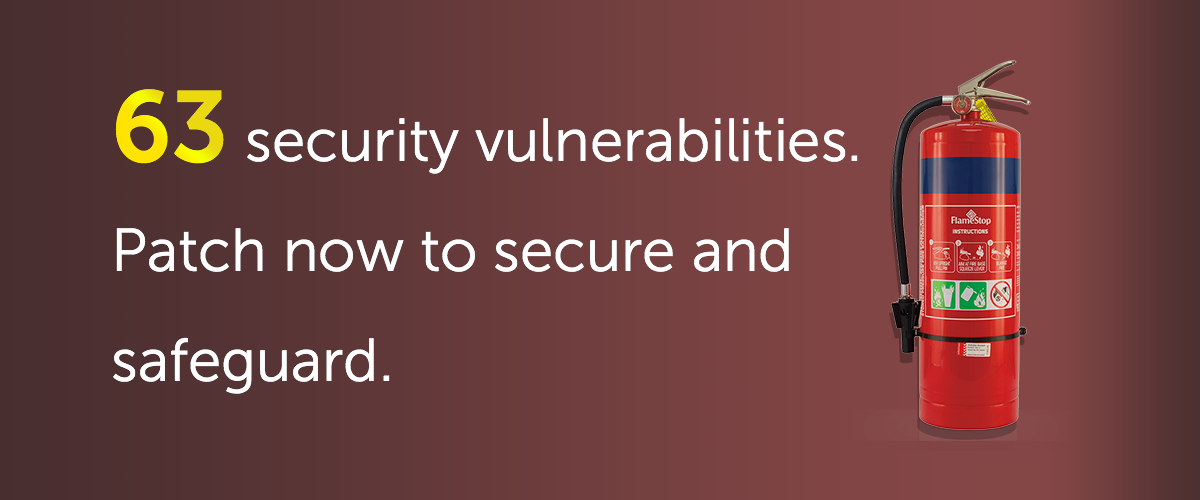 Last month's edition of Patch Tuesday left many of us stranded since the patches it contained caused more trouble than the vulnerabilities they were intended to fix.  Situations like this often leave sysadmins with only two options: install the updates and face any underlying issues or don't install the updates and leave your organization's machines potentially vulnerable to attacks. We have a way to avoid this catch-22 at the end of this blog. Keep reading to see which patches have been released this month to tackle the bugs and performance flaws that were caused by the previous Patch Tuesday.
For this month's Patch Tuesday, Microsoft has fixed 63 security issues, 21 of which are rated critical. There are a couple of publicly disclosed vulnerabilities as well: CVE-2018-8414 and CVE-2018-8373.
August 2018 security updates for Microsoft products 
This month's Patch Tuesday covers updates for the following list of products:
Internet Explorer
Microsoft Edge
Microsoft Windows
Microsoft Office
Microsoft Office Services and Web Apps
Chakra Core
Adobe Flash Player
.NET Framework
Microsoft Exchange Server
Microsoft SQL Server
Visual Studio
Critical patch updates
Most of this month's critical vulnerabilities are memory corruption flaws in the Chakra scripting engine that could allow a remote attacker to execute arbitrary code on a target system. Here is a list of all critical patches that Microsoft released for this month's Patch Tuesday.
Adobe Flash Player updates
A critical Adobe Flash Player vulnerability (ADV180020) has been fixed this August. Successful exploitation of this vulnerability could lead to remote code execution on a victim's computer.
Non-security updates
Microsoft also released non-security updates for Office 2013 and Office 2016. View the entire list of non-security patches for the month of August.
Patch Tuesday best practice
Microsoft releases timely hotfixes, rollups, service packs, and other updates to ensure users are secure. But the updates themselves can cause stability issues and may even affect your systems' health. You could manually test each update to see how it will impact your systems—or you could save yourself some time and use an automated patching tool.
ManageEngine has two solutions that include patching features: Desktop Central and Patch Manager Plus. They both have a Test and Approve feature that enables you to deploy patches to a test group before automatically deploying them to client systems, ensuring that the stability of your systems isn't compromised. You can download a 30-day trial of either Desktop Central or Patch Manager Plus to stop worrying about downloading, testing, and applying updates.