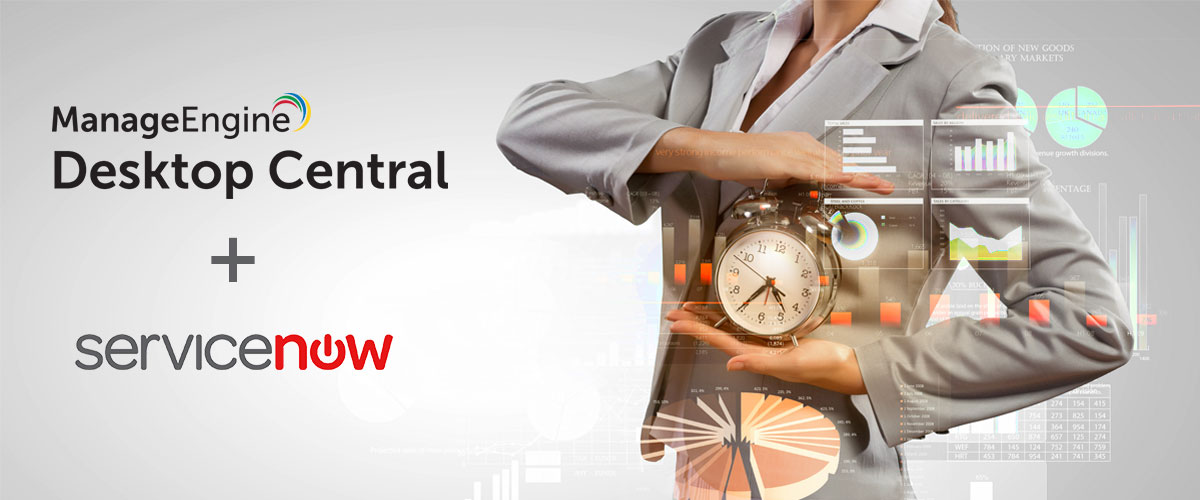 For many enterprises, IT forms the backbone of business operations. Enterprises need a perfect help desk solution to resolve their tech issues and keep their IT departments efficient. There are a number of help desk solutions available in the market to manage enterprises' ITSM and ITIL tasks. Enterprises are increasingly employing solutions from vendors like Spiceworks, ServiceNow, ManageEngine, Atlassian, Freshdesk, and Zendesk to simplify their IT.
If your enterprise has chosen ServiceNow as your help desk solution, then this blog is just for you. Read more on how Desktop Central's integration with ServiceNow can help make your ITSM operations far more efficient.
ServiceNow integration needs
There are two major ServiceNow integrations that are available in the market: ServiceNow integrations that are included in the tool at no additional cost, and certified partner integrations that are available in the ServiceNow Store. Most IT departments look for the latter, since they manage multiple third-party applications running on a few different platforms, including Windows, Mac, and Linux. IT pros prefer a tool that will allow them to perform IT operations such as managing desktops, laptops, mobile devices, and more directly from a support ticket.
Let me explain the benefit of using certified partner integrations using a scenario. Robert is a support technician who receives a huge pile of support tickets every day. Sometimes, Robert receives tickets to deploy business apps to remote users. When this happens, he has to switch to a software management app to download and deploy the business app, which increases the overall SLA resolution time for Robert's IT department.
To reduce this resolution time, Robert can employ a certified ServiceNow integrated software management app that will allow him to deploy software directly from his support ticket in just one or two clicks.
ServiceNow's integration with Desktop Central
This is exactly what the ServiceNow integration with Desktop Central can help you do. Download the Desktop Central app from the ServiceNow Store to deploy business apps to remote users, remotely troubleshoot users' computers instantly, perform other remote operations like shutting down and starting user computers, and gain visibility over available and missing patches across Windows, Mac, and Linux operating systems in your network. This will drastically reduce your overall SLA resolution time and lower the switching cost, since only one console is needed to perform all your ITIL operations.
ServiceNow's integration with Desktop Central simplifies IT management and saves your time. Desktop Central also integrates with two other major help desk solutions, Spiceworks and ServiceDesk Plus.
Benefits of ServiceNow's Desktop Central integration:
Deploy business applications and software from tickets.
Take control of remote computers to troubleshoot from tickets.
Remotely shut down, restart, hibernate, lock, and perform WAL operations from tickets.
Get visibility over patches and inventories in your network.
Install our Desktop Central app from the ServiceNow Store and increase your productivity right away.
To download a fully functional, 30-day free trial of Desktop Central, click here.