From introducing new automation capabilities to offering all new integration options this past year, ManageEngine's ITOM suite of solutions have been supercharged to seamlessly manage complex networks. These new, powerful product enhancements and feature releases have honed the ITOM suit's superior network management capabilities for IT admins worldwide. With a focus on helping you tackle complex network management issues and simplify carrying out day-to-day network tasks, several enhancements and features were added to the ITOM suit's capabilities.
Now, with 2021 coming to a close, we decided to look back and list out some of the most exciting features and enhancements that were made. Join us as we explore the highlights!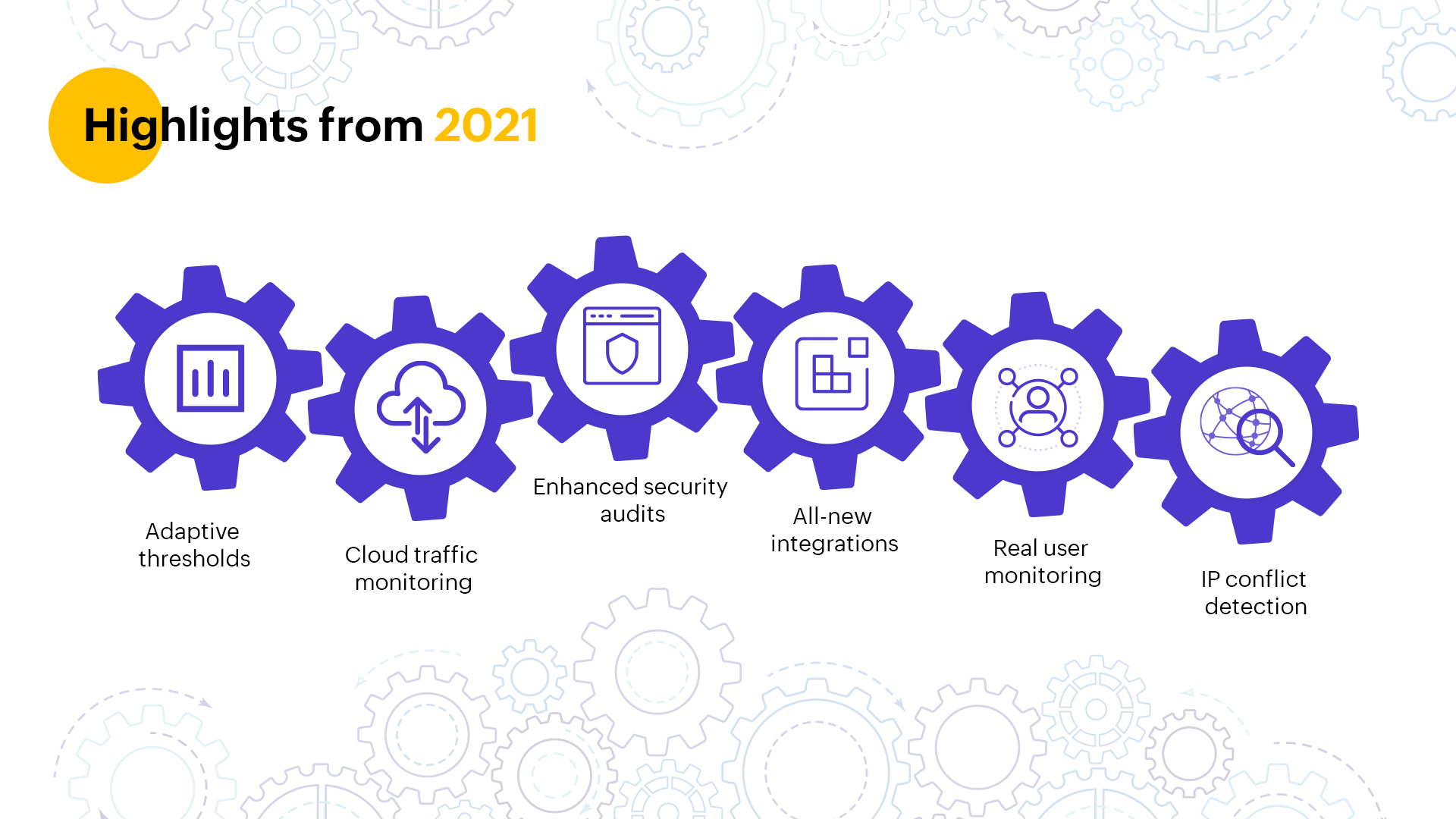 OpManager: Adaptive thresholds and more effective updates to get things done easily
In 2021, OpManager significantly simplified the task of network performance monitoring by enabling adaptive thresholds. This update relieved thousands of network admins from the tedious task of manually analyzing device performance trends, configuring alert thresholds for thousands of devices, and carrying out constant threshold modifications.
With adaptive thresholds, OpManager masterfully blended the effectiveness of machine learning with the efficiency of using advanced predictive algorithms and percentage-based calculations to forecast threshold values tailored to fit your network's performance trends. This helps you take complete control over your network devices' performance metrics while cutting down on manual tasks, saving time and effort.
Apart from this, OpManager also introduced several feature enhancements to help network admins tackle the challenges of constantly evolving network infrastructures. Notably, support for SDN monitoring with Cisco ACI monitoring tools helps you streamline tracking the health and efficiency of ACI environments and their associated components.
OpManager also extended support for SD-WAN monitoring with Cisco Meraki. These updates help you gain complete visibility into your network environment, stay ahead of issues, avert performance degradations, and ensure a simplified approach to keep your network constantly up and running.
Applications Manager's extensive insights to offer a seamless end-user experience
Applications Manager simplified monitoring the real-time front end performance of websites and web applications by introducing the RUM tool. The in-depth insights captured by RUM sheds light on the Apdex score, overall response time, domain resources, and more of your website and web application.
RUM also helps you ensure an uninterrupted digital experience by effectively tracking the performance of your website and web applications across geographies, so you can identify, isolate, and tackle issues.
NetFlow Analyzer enables comprehensive cloud traffic monitoring along with a range of integrations
Traffic flows are becoming all the more chaotic to manage with businesses shifting to cloud and hybrid networks. With its cloud traffic monitoring capability, NetFlow Analyzer helps you bring order to this chaos. It now supports AWS VPC flow logs by integrating with Amazon VPC, so you can easily track, analyze, and inspect traffic patterns in the cloud, which helps you stay ahead of potential issues and ensure problem-free cloud networking.
To help network admins log, track, and maintain ITIL standards when it comes to critical alarms, NetFlow Analyzer added support to a range of integrations in 2021. This includes notification template integrations with ManageEngine ServiceDesk Plus, ServiceDesk Plus Cloud, ServiceNow, Slack, and JIRA Service Desk. It also offered the HighPerf add-on and multi-criteria-based aggregated alerts to enable enhanced traffic flow analysis.
Network Configuration Manager is even more effective with added integrations and Rest API support
In 2021, Network Configuration Manager raised the bar when it comes to efficiently carrying out configuration and change management tasks. It rolled out several feature enhancements that enabled users to effortlessly take control of their network configurations. By integrating with ServiceDesk Plus On-Demand and ServiceNow, you can now easily keep track of configuration change requests and other network operations. This seamless integration notifies, tracks, and automates requests, helping you better manage your network configurations.
Network Configuration Manager also now helps you avoid the hassles of configuration management by extending support to REST APIs for configuration changes. This helps you simplify tasks by avoiding the need to follow stringent command syntax and track object hierarchies. The REST API's interface closely resembles that of the device's, offering a simplified UI experience and fuss-free configuration changes.
Firewall Analyzer: Enhanced security audit and rule management to bolster your network defenses
This year, Firewall analyzer made assessing your network security much simpler and more effective by honing its security audit and rule management capabilities. It extended support for Security Audit reports on firewalls from various vendors including PaloAlto, Sophos, Cisco, and FortiGate. These reports help you take a deeper dive into the security aspects of your network firewalls, providing details such as identified security issues and their impact.
Firewall Analyzer also extended its Rule Management, Compliance, and Rule Administration support to a number of new firewalls, offering a seamless firewall rule management experience. By extending support to new industry compliance standards based on the configuration data for the GDPR, HIPAA, and GLBA, Firewall Analyzer enabled its users to adapt to the latest industry updates and standards with ease.
OpUtils' feature updates offer simple and conflict-free IP address management
By adding IP address conflict detection to its list of IP address management capabilities, OpUtils made tackling IP conflicts hassle-free. With the IP conflict detection capability enabled, OpUtils now continually scans the IP address space and instantly alerts you in case of a conflict. To easily fix these conflicts, OpUtils also displays the details of the IP in conflict, its associated MAC addresses, and the nature of IP allocation.
Rolling out support for supernet monitoring, OpUtils offered a simplified approach to monitoring your network's IP address hierarchy and route aggregation. With this, you can now add, track, and edit multiple IP supernets and their associated IP subnets using the IP Address Manager module.
That's not all! Need all these features in one integrated console? Try OpManager Plus, a unified IT operations management solution. OpManager Plus brings you out-of-the-box capabilities to manage your entire network from a centralized console. Keep track of routers, servers, configuration changes, traffic flows, firewalls, IP address spaces, and more with layer-by-layer visibility, and experience complete control over your network management!
With many more exciting feature releases and enhancements in the pipeline for ManageEngine's ITOM suit in 2022, its time to check off eliminating the hassles of IT management from your New Year's to-do list. Download a free trial of these solutions today, get set up and seamlessly integrated with your existing network environment in minutes, and experience their advanced features hands-on.
OpManager                             Applications Manager                      NetFlow Analyzer
Network Configuration Manager                    Firewall Analyzer                    OpUtils
OpManager Plus