We live in an era where people would rather take the crowded rush-hour subway than drive through slow moving traffic. Website visitors are likely to bounce if a page takes more than four seconds to load. Once gone, there's a high probability they'll never be back. Keeping a close watch on your website performance is the only solution for maintaining a high traffic website.

Ensuring round-the-clock availability, quick page response, content accuracy, and smooth customer experience adds credibility to your web application. By monitoring websites, you can understand the behavior of your business websites and also get a glimpse into the virtual journey of your site visitors in real time.
Why do you need a website monitoring tool? 
Websites can provide plenty of revenue, generating opportunities by offering a product, service, data, information, or even entertainment to site visitors. However, redirect problems, loading time, or safety concerns are some of the factors that could prevent your visitors from engaging with the website.
If you are promoting a product or service through your website, customers would likely have to go through a series of pages before making a purchase. Imagine they encounter an obstacle before completing the purchase. What if they get stuck on one of the pages due to redirect issues? What if the payment page takes ages to load? What if your website has been marked unsafe to access?
In this era of urgency, no one waits. A consumer typically judges a brand based on their interaction with your website, meaning a slow and unreliable website can make customers lose trust in your brand. Even worse, you could be handing over valuable customers to your competitors on a silver platter. This is where a website monitoring tool comes in!
Using a website monitor, you can have your site's entire blueprint at the tip of your fingers. There won't be a slow loading page, website crash, or performance lag without you knowing about it before your end-users do. But what should you look for when choosing a tool for website monitoring? Here's a list of must-have features that you will truly benefit from!
5 main features that make up the best website monitoring tools
1. Web page analysis
In order to see which micro-element is slowing your page down, it is important to break your webpage down into tiny elements and monitor them individually. This can help eliminate or optimize resources that are taking too much space or being a burden on the page itself.
Applications Manager uses its web page analyzer capability to give you a performance summary of all your webpage domains within a single dashboard. Metrics such as domain health, request rate, size, and response time can be collectively used to predict the issue that slows page performance.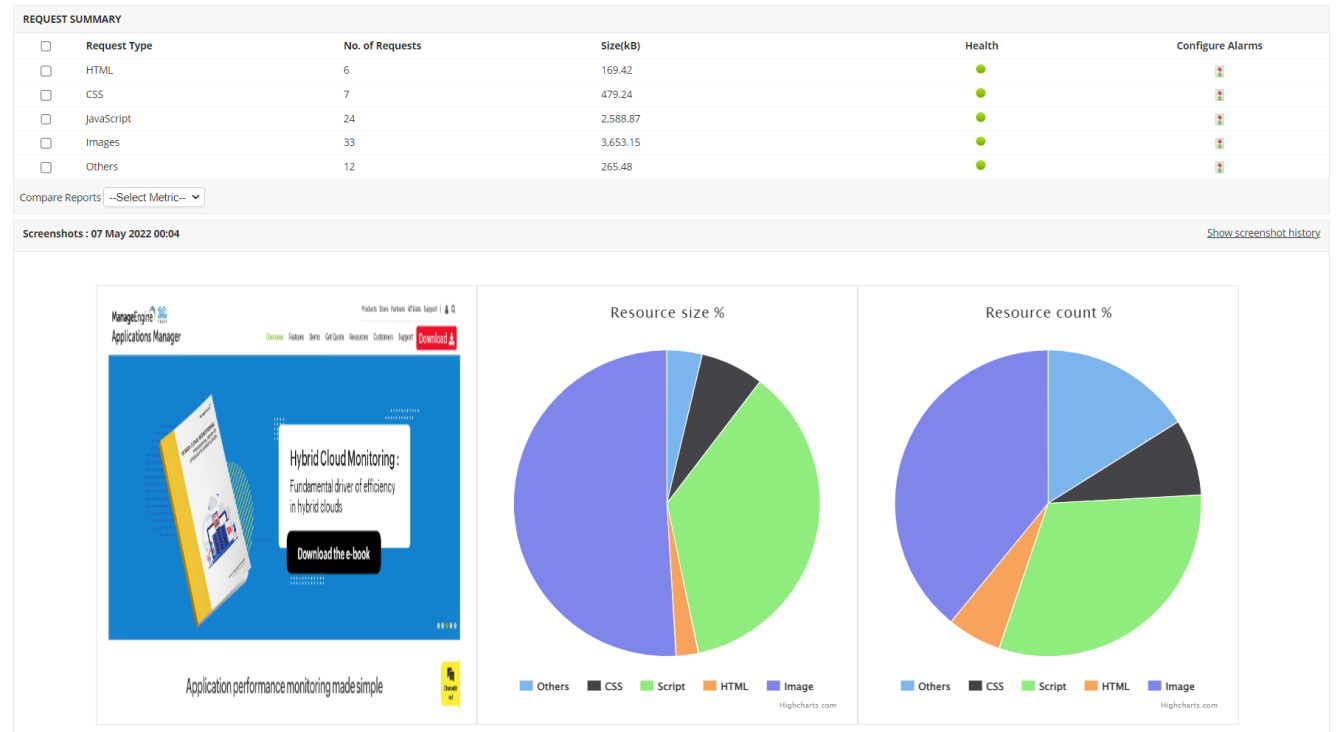 Applications Manager dissects your webpage into different resources. You get the status of each resource (CSS, image, script, HTML) along with its size, blocking time, download time, lookup time, latency, and connection time details. On top of that, you can compare resource elements of a page to see which occupies the most space and how often they are being interacted with.
Unlike most website monitoring tools, Applications Manager has a built-in PageSpeed Insights functionality that grades every aspect of your webpage with a score. This helps you focus on enhancing the page's score that will directly reflect on the overall performance of your website.
2. URL and URL sequence monitoring 
One of the most primary capabilities that every website monitoring solution has would be the ability to track individual URLs. Even if a single webpage takes too long to load, it could ruin the overall digital journey through your website, causing visitors to bounce prematurely.
Employing a smart URL monitoring software like Applications Manager helps ensure round-the-clock availability of your webpages by constantly tracking their health and alerting whenever there's a threshold breach. Page response time, DNS time, connection time, and page size change are some of the URL monitoring metrics that are used to gauge the performance behavior of each URL. You can also track a sequence of URLs within a single dashboard to understand their relative performance.
3. Content monitoring
Websites can experience unauthorized content changes that are often the result of hackers who inject defacement scripts to damage the site's integrity. The tricky part is spotting the anomalies, especially when dealing with a large website. This is where website content monitoring comes into play.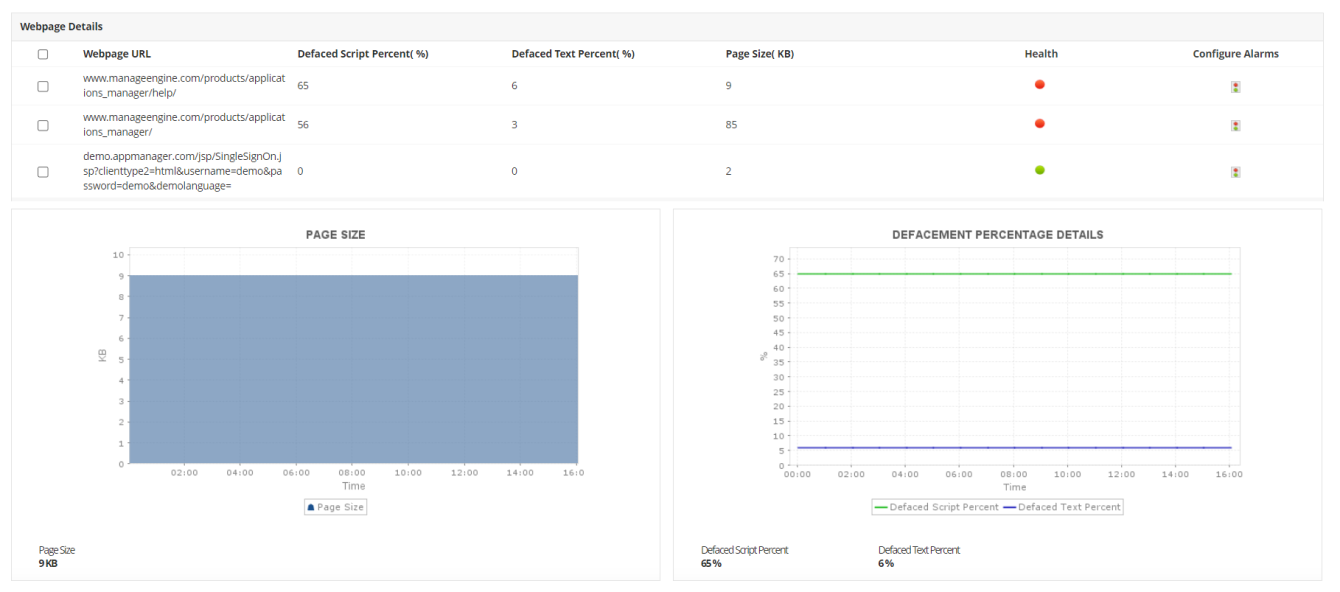 Applications Manager's website monitoring feature checks and instantly alerts admins when it comes across unauthorized content modification. Our website content monitor identifies defacement of HTML elements such as text, images, scripts, anchor tags, Iframes, and links. It enables you to rectify the issue before your end users get affected by the content changes. 
4. Brand reputation monitoring
Retaining customers who visit your website can be quite tricky as even a minor setback could prompt them to lose interest in your site and the value you wish to offer. While the above-mentioned features can help improve a customer's digital journey through your website, all your site's grandeur can go to waste if it gets blacklisted.

To ensure all the effort gone into building your brand and website pays off, Applications Manager comes with a handy brand reputation monitoring functionality that tracks and alerts you if the website is suspected to be a threat. It shows you if your website has been marked as a malware, phishing site, or an unwanted software. 
5. End user experience monitoring  (EUEM)
Real user monitoring 
Real user monitoring (RUM) gives a broad perspective into an end-user's interaction with your website or application. Since there are many elements involved whenever a user navigates through your website, identifying the exact element causing a performance issue can be quite complex.
A website monitor like Applications Manager facilitates RUM by tracking your website's KPIs across different geographies, ISPs, browsers, and device types. The tool also provides the Apdex score of your website to help paint a picture of your real user's satisfaction level.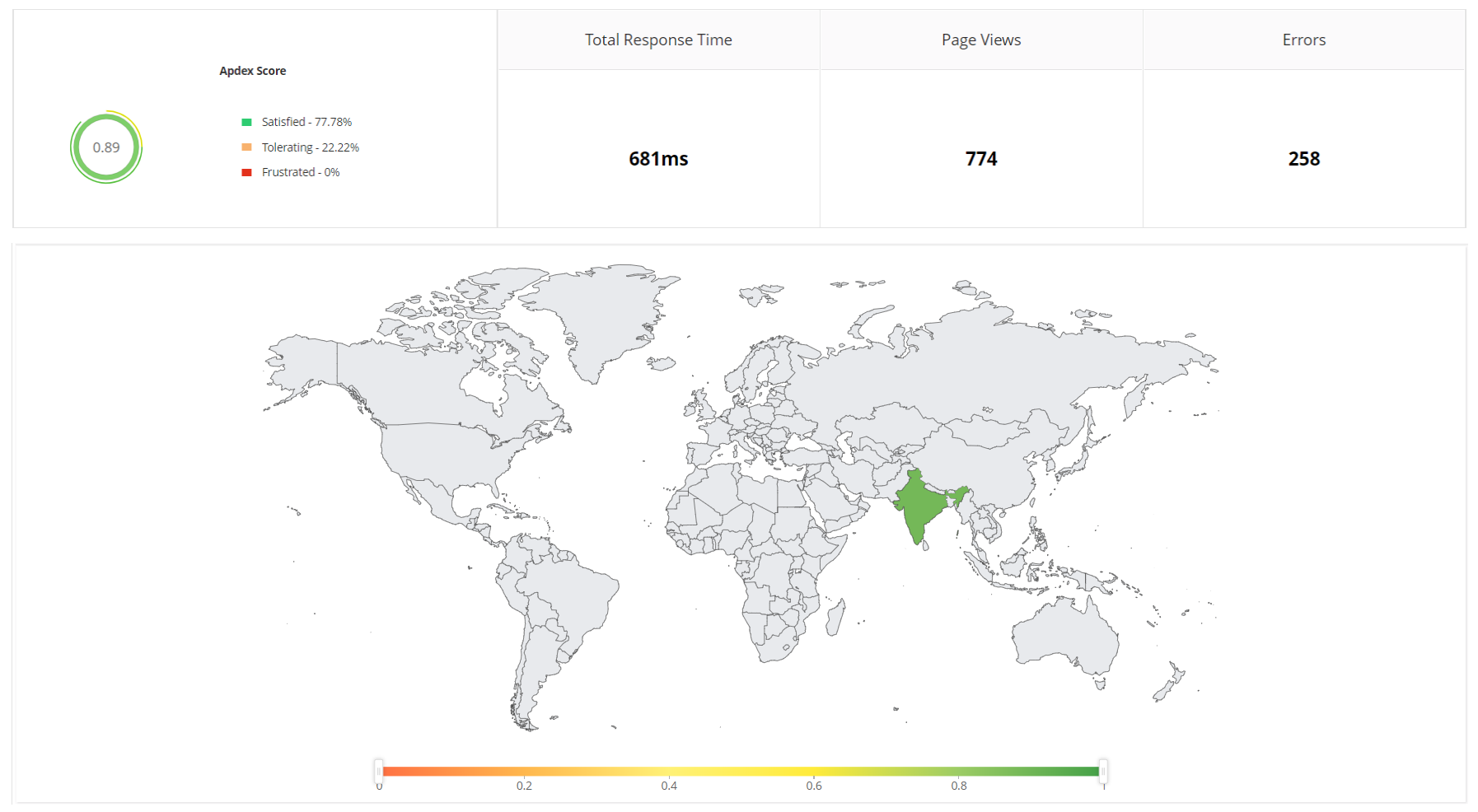 The RUM capability gets you information on the number of pages navigated, viewing time, platform, and region details of your users every time they venture through your website. This user session information helps you to pinpoint the exact webpage that is leaving your site visitors frustrated.
You also get to identify JavaScript errors that directly affect users and find out different domain resources such as images, CSS, or scripts that occupy too much space and contribute to your site's poor performance. Analyzing these metrics can collectively help you optimize the overall response time of your business critical websites. 
Synthetic monitoring
Synthetic transaction monitoring focuses more on tracking every transaction step by simulating a visitor's activity pattern through your website. Applications Manager's synthetic monitor records the transaction steps to emulate your site's user behavior. By analyzing the individual load time and transaction time, you can identify the exact page that's preventing your customer from having a smooth journey through your website.

The screenshots and the anatomization of the resources used can help admins make educated decisions regarding resource size changes that could significantly improve the overall webpage performance.
It is important to note that RUM and synthetic monitoring are two sides of the same coin. EUEM cannot be complete without one or the other. With this in mind, it is wise to choose a website performance monitor like Applications Manager that couples both the capabilities for better clarity into your business application.
Benefits of Applications Manager's website monitoring service include:
Agentless monitoring solution which can be configured in just minutes.

Detailed graphs, reports, and charts for easy performance analysis.

Customizable dashboard to monitor your entire IT infrastructure in one place.

Instant alerts whenever a page goes down or takes ages to load.

EUEM facility to visualize your website's real time performance from the user's perspective.

One-stop solution for all your other application, server, cloud, database, hardware, and service monitoring needs. Support for over 150 technologies.
Conclusion 
Now that you have all the information on finding the best website monitoring tool, it is time to pick the right tool to help boost the efficiency of your webpages. Despite the abundance of website monitoring services available, the ideal choice is the one that offers the most value for your money.
Having the best website monitoring software like Applications Manager to cover every corner of your website can go a long way in ensuring a seamless experience for your site visitors. Not only does the multi-dimensional tool help retain customer interest, it also boosts the credibility of your website, and in turn, your brand. So start monitoring your website now with Applications Manager!
Download a 30-day, free trial of Applications Manager to explore all the functionalities of website performance monitoring on your own, with free technical support!