On September 25, 2019, Exchange Online users began facing an issue that prevents RTF emails including attachments from being sent to external domains. According to Microsoft, the issue was caused by a recent change made to Exchange Online that introduced a regression. An initial fix was deployed on September 28, 2019, and it is expected to be fully saturated within the affected environment by October 2, 2019.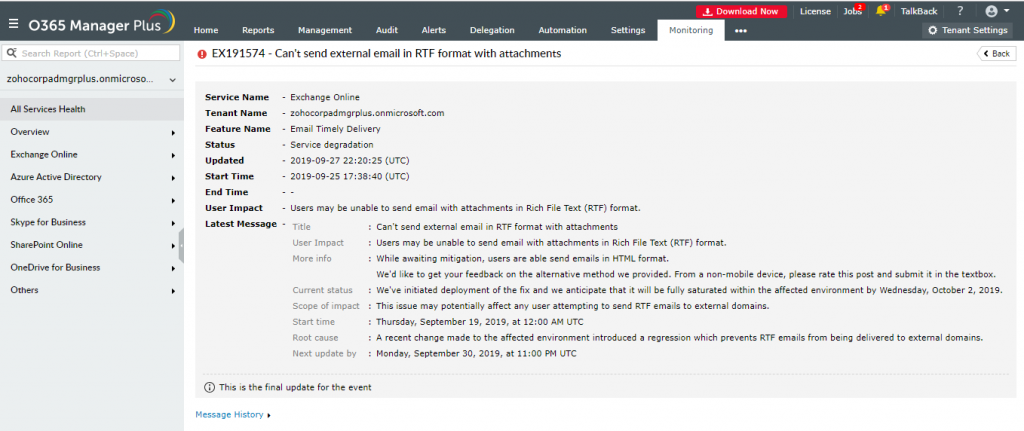 While we're waiting for an update from Microsoft, it's important to note that most users only learned about this when some of their emails were undelivered, although the Service Health Dashboard (SHD) clearly showed the issue. It's high time we realize it isn't possible for IT admins to keep an eye on the SHD all the time.
Additionally, with the increased number of outages occurring since the beginning of 2019, Microsoft  is struggling to keep up with its service-level agreement (SLA) commitment to 99.9 percent uptime. This highlights the need for a third-party Office 365 monitoring tool like O365 Manager Plus.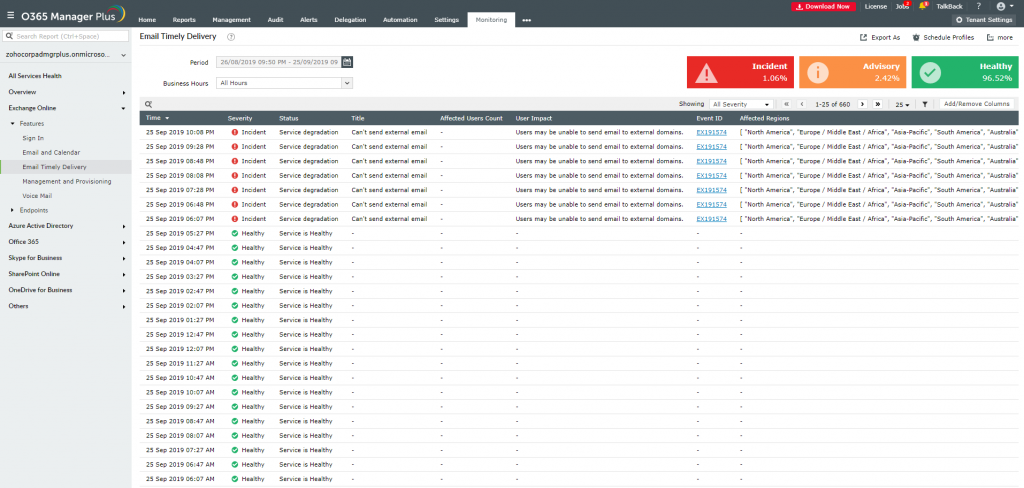 Office 365 monitoring with O365 Manager Plus
O365 Manager Plus monitors the health of Office 365 services 24×7 and sends email notifications immediately when a decline in service is detected. With these real-time service outage alerts, you can plan alternative ways to continue your business processes without any hiccups.
O365 Manager Plus offers the following features and more:
A centralized console for monitoring: Monitor the health of Exchange Online, Azure Active Directory, OneDrive for Business, Skype for Business, and ten other Office 365 services all from one central location.
Real-time alerts: Receive instant email notifications on service incidents.
Historical data: Gain access to historical Office 365 service health monitoring data that's older than 30 days.
In-depth graphs: View graphs illustrating the health status of Office 365 services to facilitate quick decision-making.
Click here to learn how to create a monitoring profile in O365 Manager Plus.
Monitoring is not the only feature of O365 Manager Plus. Read about the other features here.
Download 30-day free trial to explore the features of O365 Manager Plus yourself.