Just released earlier this year, Microsoft Teams a chat-based workspace in Office 365 is the latest collaboration tool from Microsoft. With Teams, you can exchange messages and share files of any type. Though it may sound attractive, that file sharing feature turns ugly when highly confidential or malicious files are shared by accident or on purpose. In addition to Teams, third-party applications being integrated with Teams must also be monitored for obvious security reasons.Thankfully, we've got the perfect tool to assuage your woes.
O365 Manager Plus—our extensive Office 365 reporting, management, and auditing solution—lets you manage your Office 365 setup with ease. Keeping with the times, we've spiced up the latest version of O365 Manager Plus with new auditing and alerting features for Microsoft Teams. Generate audit reports and create alerts for the following aspects of Microsoft Teams in the upgraded version of O365 Manager Plus:
Microsoft Teams Events: Keep track of new teams and channels added by users. Uncover details such as who added which team or channel and at what time, as well as who is using Teams, and when those users signed in.
Microsoft Teams Settings Changes: Audit changes to organizational settings, Teams settings, and channel settings.
Create alerts for these categories of events and receive real-time email notifications with details about events of interest. For example, converting a private channel to a public channel might impose security issues that must be taken care of immediately. In such situations, real-time alerts help you make quick decisions.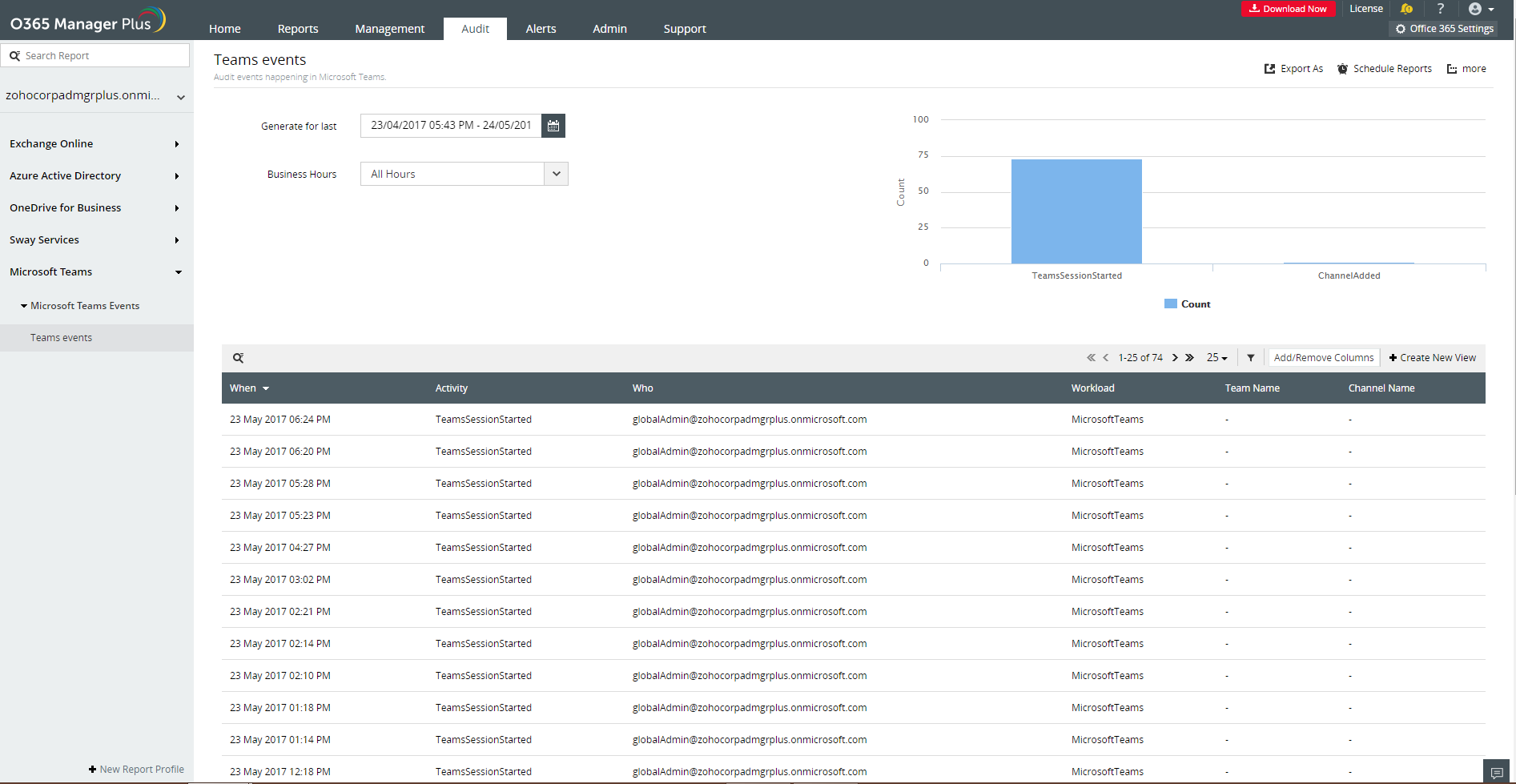 Create a schedule to automatically email audit reports to administrators, or export them to PDF, CSV, HTML, or XLS formats.
Click here to update to the latest version of O365 Manager Plus. If you are new to O365 Manager Plus, click here to learn more.