"Unstructured data accounts for as much as 80 percent of an organization's data footprint." – Gartner
As file storage grows rapidly year after year, new challenges arise around keeping data safe and maintaining control over data storage systems.
Who owns which files? Whose files take up what volume of enterprise storage? Which files have become obsolete? How many copies of a file exist, and where? Are there any stale files that contain sensitive data?
These questions require up-to-date answers to ensure that business, compliance, and data security needs are easily and effectively met. However, due to the overwhelming volume of data stored by organizations, the fulfillment of these needs takes an increasing amount of time and energy.
What contributes to data glut?
Employees storing personal files on enterprise storage, data hoarding, poor data management, and indecision over which files can be safely deleted lead to data glut—a scenario where an organization's workflows and server performance are bogged down by its own storage.
Analysts found that of the total unstructured data stored by an organization, at least 30 percent is redundant, obsolete, or trivial (ROT). This makes ROT data the primary contributor to data glut and the biggest challenge in data management.

What exactly is ROT data?
Any unneeded, outdated, stale, irrelevant, duplicate, orphaned, or non-business file is ROT data. Let's break this down further.
Redundant data: These are duplicate copies of files that are stored in multiple locations across your servers.

Obsolete data: These are files that have not been used in a long time, and are unlikely to ever be needed again.

Trivial data: These are files that are not relevant to the enterprise, such as music and large media files, personal files of current employees, etc.
Unless organizations make targeted efforts to manage and mitigate ROT data, they will continue to accumulate junk files in primary storage devices.
Why is ROT data a problem?
ROT files take up valuable space in primary storage devices and impede data visibility and accessibility. They also lead to:
Increased storage costs: If employees continue to hoard once-critical files in expensive Tier-1 storage, the enterprise will eventually need to buy additional storage space. Accounting for factors such as the price of storage hardware, staffing and administration, software for data security and analysis, and more, the annual cost of storing ROT files is around $2,340 per TB.

Reduced business efficiency: The more data there is, the more time and resources it takes to back up, analyze, access, and classify it. This creates a vicious cycle of inefficiency in analyzing storage and increased data management costs, thereby hindering the adoption of cloud storage and affecting innovation.

Slower data discovery scans: Rapid information retrieval is crucial during risk assessment and legal discovery processes. ROT data slows down the identification of pertinent and regulated data.

Data security risks: Since ROT files are left untouched for extended periods of time, their permissions are often outdated or are based on obsolete file security policies. This leaves a startlingly high chance of one of them being accessible by inactive user accounts and makes them susceptible to data breaches.

Risk of non-compliance penalties: Information that is stored beyond its legal retention period increases the risk of non-compliance penalties. Further, stale files may contain sensitive personal data like payment card information (PCI), personally identifiable information (PII), and electronic protected health information (ePHI) with inadequate security measures in place to protect them.
How can you manage ROT data?
Simply buying new storage devices is not the solution to data glut. A holistic approach to ROT data management is required, starting from updating data retention guidelines to setting up processes to purge unneeded data. Eliminating stale, duplicate, and non-business files helps improve data security and organizational efficiency.
To reduce the volume of ROT data, follow this four-step process: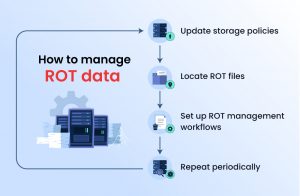 Update storage policies
Set up custom data retention policies based on your data generation and storage trends. One size does not fit all, and organizational needs change continuously. Up-to-date storage policies improve information governance and curb ROT data at its source.
Discover ROT files in your storage environment
Implement a file analysis solution to locate non-business files, files that have been untouched for long periods, duplicate copies, and other junk files.
Set up workflows to manage junk files
Configure policy-based archiving and deletion of junk files. This will free up disk space, improve the performance of storage devices, and ensure continuous storage availability.
Repeat periodically
ROT data management is a continuous process. CISOs must periodically scan data stores for irrelevant data and respond by either purging it or moving it to secondary storage devices.
Eliminate data glut by managing ROT data using DataSecurity Plus
ManageEngine DataSecurity Plus can locate, manage, and report on ROT data in your storage environment, thereby helping you prevent data glut.

Learn more about the file analysis, ROT data management, duplicate file detection, and file security analysis capabilities of DataSecurity Plus. You can also try your hands on the solution by downloading a free, fully functional, 30-day trial.