The average employee uses at least eight applications, according to the 2019 SaaS Trends Annual Report. To reduce the effort it takes to remember the multiple passwords users need for the growing number of applications they use, users often resort to poor password habits, including setting weak passwords.
Not only do employees resort to bad habits when having to remember too many passwords, but they also tend to forget their passwords more often, which leads to an influx of password reset tickets in the help desk. Managing and monitoring access across multiple applications for multiple users is a daunting task for the IT department. But there's a solution that can help.
Introducing ManageEngine Identity Manager Plus
Identity Manager Plus, our secure, cloud-based single sign-on (SSO) solution, aims to help businesses overcome password-related challenges by providing users one-click access to all their applications. In addition to providing admins valuable insights on application usage and user accesses, Identity Manager Plus comes with built-in SSO integrations for many popular enterprise application suites, such as Office 365, Salesforce, G Suite, Dropbox, Slack, and Zoho. With Identity Manager Plus, end users can use one set of credentials to log in and access all their applications—all in a single click.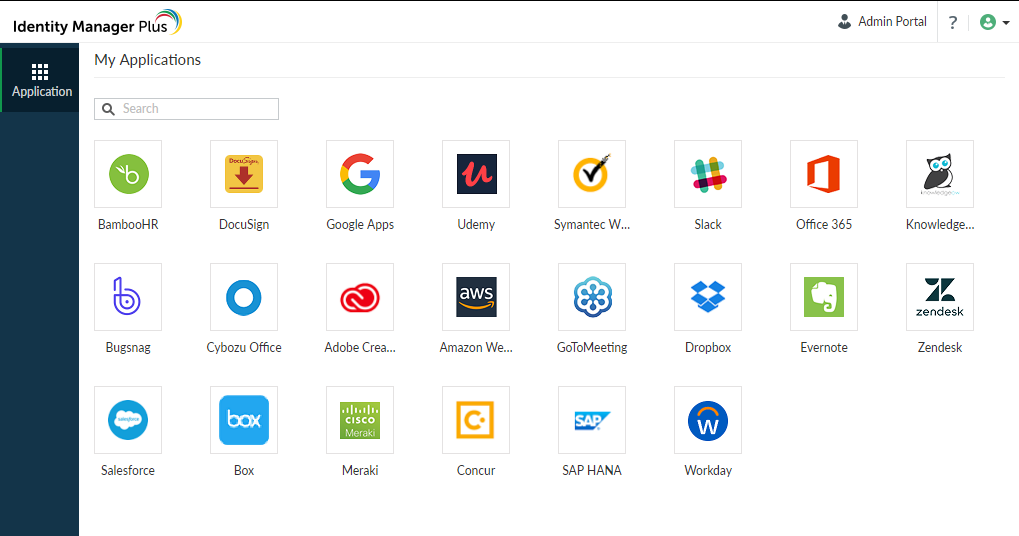 Highlights
Enable SSO for any SAML-based application. Enable SSO for any SAML-based application—whether it's an in-house or third-party app—in a matter of seconds. No need to write code or go through a lengthy integration process.

Gain visibility into application usage and user accesses. Using the built-in reports, track the most-used applications, users with the most logons, logon times, admin activities, and more.

Authenticate using existing identities. Integrate Azure AD and G Suite Directory, and allow users to utilize their existing identities for authentication.

Built-in directory support. Identity Manager Plus runs on Zoho Directory by default. You can easily add temporary employees or contractors to this directory while controlling their access to your applications.

Fully cloud powered. Sign up and get started in minutes. Scale as you grow; there's no need to worry about infrastructure costs or maintenance.
The most affordable SSO solution in the market
We believe SSO solutions should reduce IT costs, help businesses alleviate employee frustration, and improve productivity; the cost of an SSO solution should never outweigh the benefits it provides. Identity Manager Plus is priced affordably at just $1 per user, per year, making it one of the most affordable SSO solutions in the market.
So, what are you waiting for? Try Identity Manger Plus today. The first 30 days are completely free.