Network administrators evaluate an application's performance by measuring response time, round trip time, packet loss, and delay. However, this method poses certain limitations, because you can monitor only the applications, servers, and network devices within the hosted network boundary. And, if the applications are hosted in the cloud, monitoring is almost impossible.
When users complain of delayed response from applications hosted in the cloud, the actual delay could be due to the application, client network, server network, transaction, or response time. Therefore, tracking the actual reason could be a cumbersome, time-consuming, and tedious. In such scenarios, the network admin needs …
READ MORE
Using NetFlow technology, network administrators can efficiently monitor bandwidth usage for capacity planning and resource allocation. Until now, NetFlow monitoring was supported only in Cisco high-end switches, such as Cisco Catalyst 3K, 4K, and 6K series switches. Cisco's NetFlow-Lite is a light-weight, packet based sampling technology  to monitor switching traffic in widely-used switches. With Cisco NetFlow-Lite, administrators can now easily monitor bandwidth across a variety of Cisco switches.
NetFlow-Lite is currently supported on the Cisco Catalyst 2960-X and 4948E. NetFlow-Lite can be configured as Version9 or IPFIX export fields. As of now, only ingress monitoring is a…
READ MORE
Traditionally, using NetFlow to perform bandwidth analysis on application visibility was primarily based on port and protocol information. The monitoring software identifies applications as HTTP, HTTPS, SMTP, and other protocols based on mapping well-known ports and protocols.
Today, most applications use random ports as well as well-known ports like 80 and 443. In turn,  traditional port and protocol analysis, which was based upon layer 3 information, is no longer very helpful in proving the deep visibility needed to identify the exact application that is consuming bandwidth.
Cisco AVC
Cisco Application Visibility and Control is the combination of multiple technologies found in the Cisco ASR 1…
READ MORE
Today, we commonly see IT budget reduction, cost cutting, and barriers for potential network circuit upgrades. In this tough economic situation, the motive of a network administrator should be optimizing the current infrastructure for future accommodations.
Optimization plays a major role when it comes to distributed network architecture and when users are around the globe.
How can we optimize the network with the current infrastructure without adding a hardware or software to the network? We'll discuss this below.
The network administrator's role is to ensure that the network is always up and running, and that the performance of the entire network is always running smoothly, even when …
READ MORE
Network administrators around the globe are very concerned about the type of traffic that is exiting their network. They want their critical business application over the WAN to perform at its best. Non-critical applications like web traffic and social media downgrade the performance of WAN links. Therefore, administrators should avoid non-business applications on WAN links.
Over the last decade, administrators around the globe have used traditional NetFlow and other similar flow technologies to identify the type of traffic on their network.  The traditional flow-based traffic analysis is utilized to identify layer 3 application traffic based on port and protocol.
What if a user on the netwo…
READ MORE
Until 2012, NetFlow Analyzer's Enterprise edition benefited ISPs, MSPs and large organizations that had distributed network architecture, in monitoring their bandwidth.
Any organization with less than 600 interfaces and want to monitor all of them by installing product on Head Quarters data center can go with Professional and Professional Plus Edition which has integrated collectors and reporting engine which collects the data and generate reports.
The Enterprise edition was majorly used by organizations that had a distributed architecture and monitoring was done by means of Central server and multiple collectors across different sites in the same network.
Limitation of Enterprise Edition:…
READ MORE
Cisco Performance Monitor helps you to identify performance issues on the network, Now a days Video is every where and when it comes to corporate network, it has to be treated in such a way that it is with high quality as expected.
An organization considering implementation of Video conferencing or any video streaming should also consider that this will increase significant load on the network. The network should be capable enough to handle this additional load along with existing load.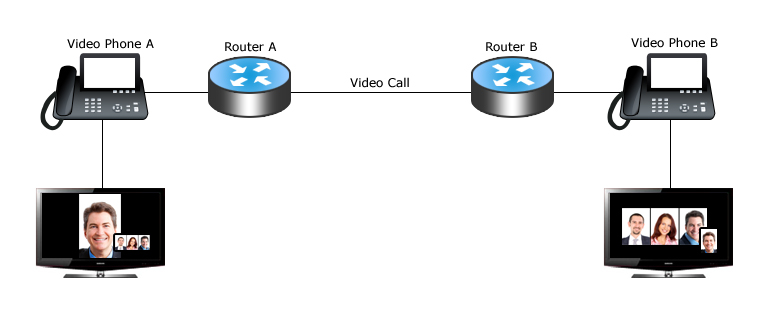 NetFlow Analyzer with its value added features like Cisco IP SLA VO and Cisco Medianet and Mediatrace helps to implement video traffic on the network effectively.
Network Load Testing using Cisco IP SLA VO :-
Video packets (RT…
READ MORE
Recently we have been receiving  a couple of mails from different customer with queries on Google Maps. There has been a change in Google Map in NetFlow Analyzer since Google has introduction  API Version 3.
Please refer the this link to know more about change in Google Map .
https://developers.google.com/maps/documentation/javascript/
NetFlow Analyzer supports API Version 3 from build 9700. However we have to go through a small step before we see the Google map.
How to switch to Google Map UI in NetFlow Analyzer :
You can click on the drop available in Dashboard/Device/IP group/Autonomous System/Interface Group pages to switch to Google Map View.


How to make Google Map work :
You have to download a file c…
READ MORE
In continuation to our introduction blog on HighPerf reporting engine, this one discuss about how to install the HighPerf reporting engine and integrate it with NetFlow Analyzer.
This HighPerf reporting engine comes as a add-on package to NetFlow Analyzer. It can be installed on the same machine where NetFlow Analyzer is installed or on a remote server.
HighPerf Reporting Engine and NetFlow Anlayzer on the same server:
If you prefer to install the HighPerf Add On on the same server where you are going deploy NetFlow Analyzer, You can download the installable for Windows which has HighPerf add-on from here and Linux from here.
The installation guide for Windows can be downloaded from here and Linux from here.…
READ MORE
Cisco is always known for rapidly rolling out enhancements to their product portfolio, Cisco ASA 8.4(5) was recently released with a lot of features and security enhancements.
NetFlow Secure Event Logging (NSEL) is now enhanced and with the new Cisco 8.4(5) NSEL export, it is possible to visualize accurate IN and OUT traffic with ManageEngine NetFlow Analyzer.
Older IOS Version NSEL Limitation:
Cisco ASA monitoring through NSEL in its older version, had the following limitations:
1. The concept of 'active time out' and 'inactive timeout', which allows flow data export in a timely manner from IOS devices, was non-existent for NetFlow packets exported from the Cisco ASA. This r…