Apple Configurator helps IT administrators simplify staging, deployment, and supervision of iOS devices. Using this Mac application, you can enroll iOS devices through physical USB hubs. However, Apple Configurator can't quite do it all. But when it augments a mobile device management (MDM) solution, Apple Configurator comes into its own and serves as a valuable iOS device management tool for enterprises.
What Makes Apple Configurator Special
Apple Configurator helps with bulk enrollment. It stages the devices, tethering up to 30 iOS devices to one Mac system, via USB hubs. It prepares these devices to be provisioned by creating configuration and restriction settings for email accounts, WiF…
READ MORE
When a new mobile OS release is around the corner, every mobile device management (MDM) IT admin's concern is when their MDM client will support the new upgrade​. Eager users promptly want to update their OS to check out its new features, and it's hard for the IT admins to stop them. To keep t​his support worry at bay, we are happy to announce that Mobile Device Manager Plus provides launch day support for iOS 9! This new iOS is perfectly compatible with ​Mobile Device Manager Plus and all its existing features. In addition, Mobile Device Manager Plus packs some ​amazing new ones from iOS 9 that will make the IT admin's job even easier.
​iOS 9 is ​launching on September 16, 2015, with …
READ MORE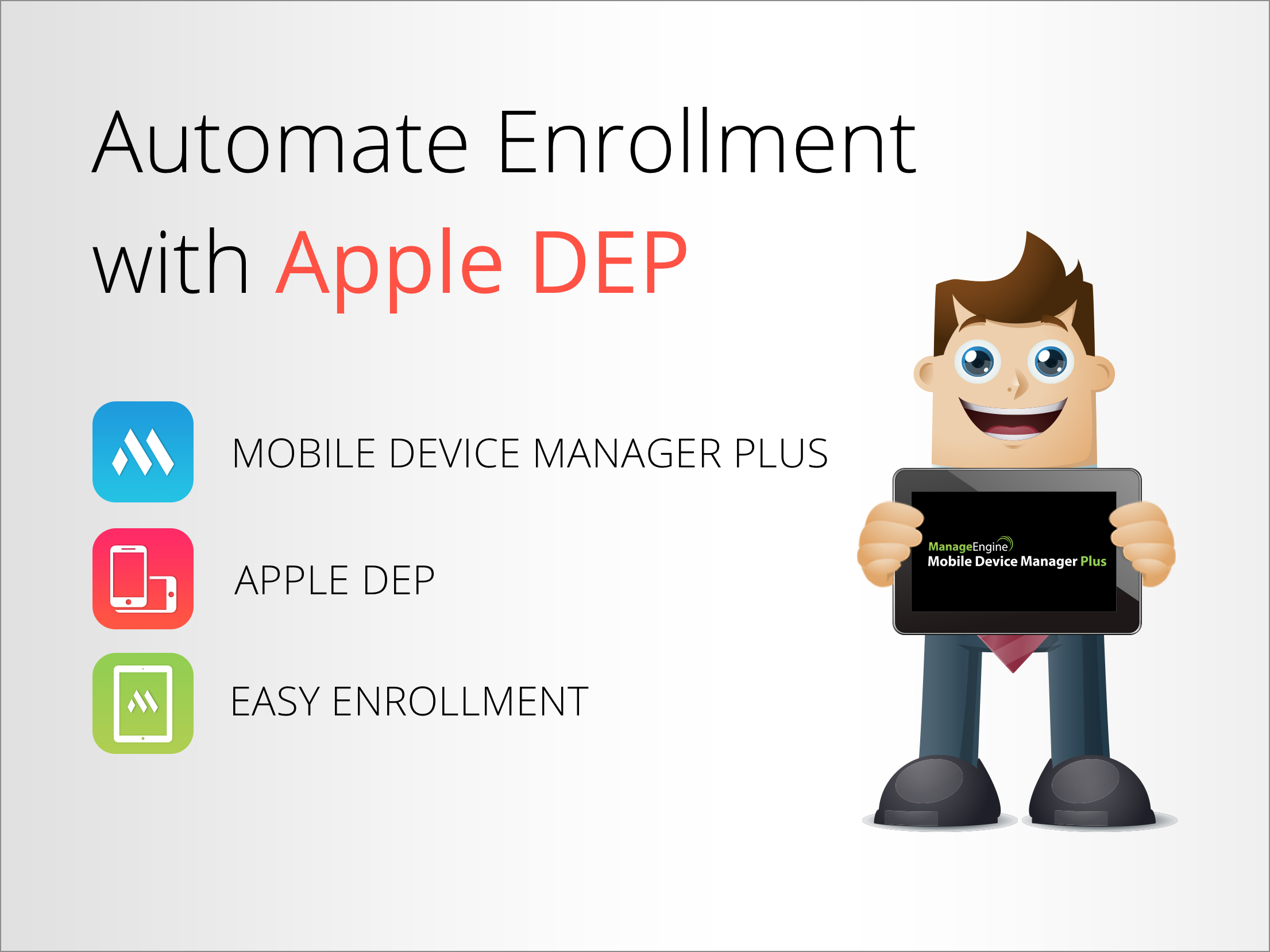 The Apple Device Enrollment Program (DEP) is all about accelerating the enrollment process of iOS devices into the mobile device management (MDM) client. This simplifies the enrollment process for the IT administrator and end users. Apple's mobile devices (such as iPhones, iPads, and MacBooks) are ​seamlessly tethered with the organization's MDM server, without the IT administrator ever having to touch the device. Apple DEP is a resourceful tool that's perfect for both business and education sectors.
Earlier, the bulk enrollment of iOS devices meant IT admins spending a lot of time, effort, and attention. The devices had to be manually checked and configured into the MDM system …
READ MORE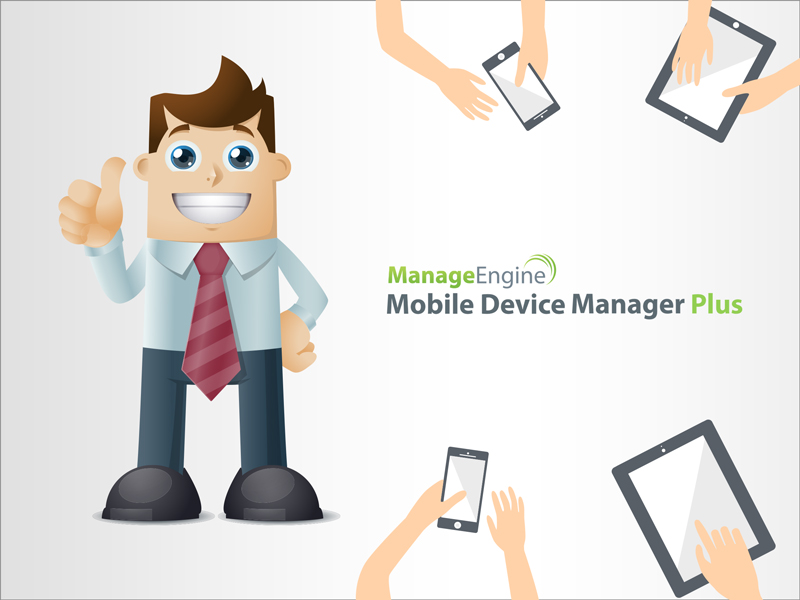 Given the nature of today's job environment, employees increasingly use mobile devices to do their work. Enterprises go through an elaborate decision–making process to choose the right mobile devices for their workforce or to allow employees bring their own devices (BYOD). IT administrators then enroll these devices into the management so that the users can create, share and access resources without compromising the enterprise's data security.
The task of device enrollment is undertaken by the IT admins who would have to program the devices into a Mobile Device Management (MDM) system. Generally, the admins would redirect the enrollment to the end users, who will need to co…
READ MORE


When Steve Jobs launched the iPhone in January 2007, it marked the birth of a new era in mobile technologies. The mobile revolution has come a long way since then with enthusiasts now talking about wearables, targeted apps, remote charging, and more. In the next two years, the Internet of Things will make automation a part of daily life.
Businesses are also taking part in the mobile revolution by using mobile technologies to improve employee productivity and customer loyalty. But this adoption of mobile technologies by businesses has not come without challenges. For example, company CIOs are scrambling to put management controls on mobile computing, such as bring your own device (BYOD) policies. IT manage…
READ MORE
Modern day organizations provide employees the flexibility to work from anywhere around the office, ​such as the workstation, cafeteria, or meeting rooms. When employees use mobile devices to do work, they will store data on them. And, when employees move around with these devices, ​there is a fair chance a few of the devices will get lost. When an employee reports the loss of a mobile device, you might immediately want to wipe the data stored on ​it. But a data wipe must be done only after confirming the loss of the device. Otherwise, it can cause work redundancy or affect productivity.
As an IT admin, you don't need to press the panic button immediately when you hear about a device loss. Depending on …
READ MORE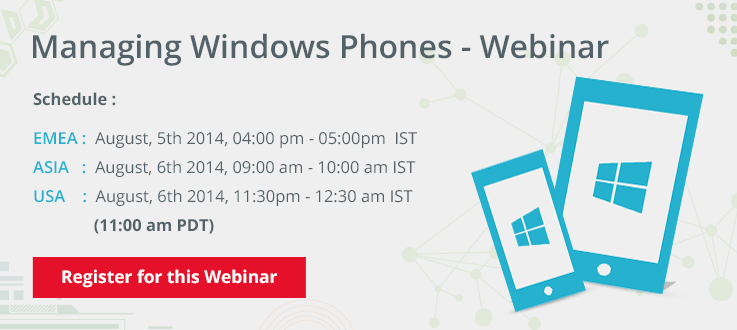 Mobile devices are an integral part of today's enterprises. And the Windows Phone operating system is gaining traction in many organizations, making Windows Phone device management essential for corporate data security. Managing these devices manually would be a cumbersome and time-consuming for IT. That's why we are introducing mobile device management (MDM) support for ​Windows Phone.
Join our upcoming webinar, "Managing Windows Phones Using Desktop Central," and you'll get an idea of managing Windows phones and discover the benefits that Desktop Central offers. We will also take you on a walk-through of the entire Windows Phone MDM feature set. I…
READ MORE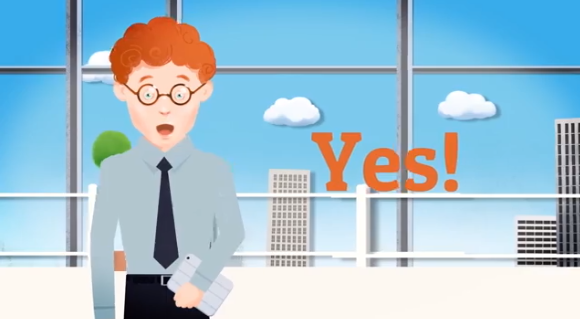 Mobile devices are an integral part of today's enterprises. And, Windows phones are gaining traction in many ​organizations. Therefore, it's essential to manage them to keep corporate data safe. If  IT teams were to manage these devices manually, it would be a cumbersome and time-consuming process. However, teams that adopt Desktop Central can ensure hassle-free device management.
Desktop Central provides the following features that simplify Windows phone management to a great extent:
Supported OS – Window 8.0 and Windows 8.1
Profile configuration – Configure policy framework to provide device access
 Asset tracking – Track device details at a granular

…
READ MORE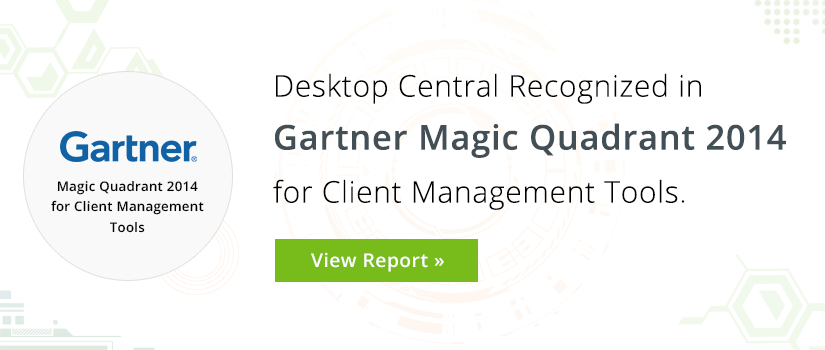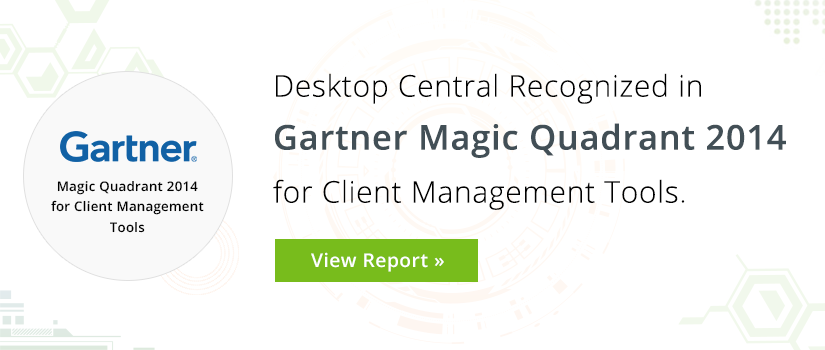 Drum roll, please! We've been recognized in Gartner's Magic Quadrant, specifically the 2014 Magic Quadrant for Client Management Tools. Download the report and see for yourself. This recognition is yet another acknowledgment of Desktop Central's leadership in the desktop and mobile device management solutions space.
Magic Quadrant reports provide in-depth, independent analyses of top client management software solutions. Gartner's evaluation criteria include completeness of vision and ability to execute. For the 2014 Magic Quadrant for Client Management Tools, Gartner requires products to offer the following functions for Windows PC systems:
READ MORE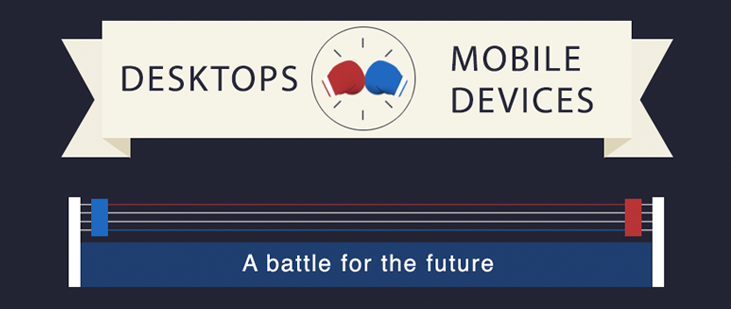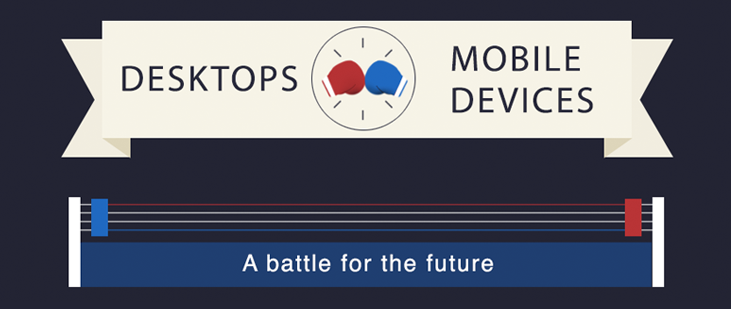 IT consumerization is all the rage. Growing numbers of tech-savvy employees are bringing their smart gadgets and apps to work, driving trends from BYOD and BYOA to BYOx. While the mobile grass looks greener, we at ManageEngine wanted to better understand our customers' views on desktop computer usage and their views on mobile device and desktop compatibility.
To that end, we conducted a global survey of IT admins to understand how IT teams are responding to the challenges of managing mobile devices and desktops together. Our survey asked questions about:
How IT departments are adapting to IT consumerization trends
What level of awareness the typical  IT team has regarding device usage patterns

…