T
his w
eek's five
is a weekly column on five recent reads from all over the web. This week, we'll talk about
network performance management
.
What's the next big thing going on in the world of IT? Most would say
the cloud. But
the
cloud doesn't run on it's own. And neither do any of the
on-premises
components of IT. They all run on an unpredictable and complex operational system of data flows called the network.
Now, the network can be really tricky. That is why we have
network performance management
(NPM)
tools in the first place, to monitor activities all
across the network.
While enterprises already know the value of these tools, startups might think they're not that important. But
…
READ MORE

Nearly one out of every three businesses (32%) become aware of most application performance issues from their end users, according to a recent
ManageEngine Application Performance Monitoring Survey
. Given the relative maturity of the application performance management (APM) market, those numbers suggest quite a few IT teams still face basic APM challenges, including: ■ No monitoring solution in place – IT teams still do not have a monitoring solution in place or do not have a monitoring solution that is equipped to detect certain types of performance issues. ■ Monitoring solution is improperly configured – IT admins have not efficiently configured their monitoring. Others don't…
READ MORE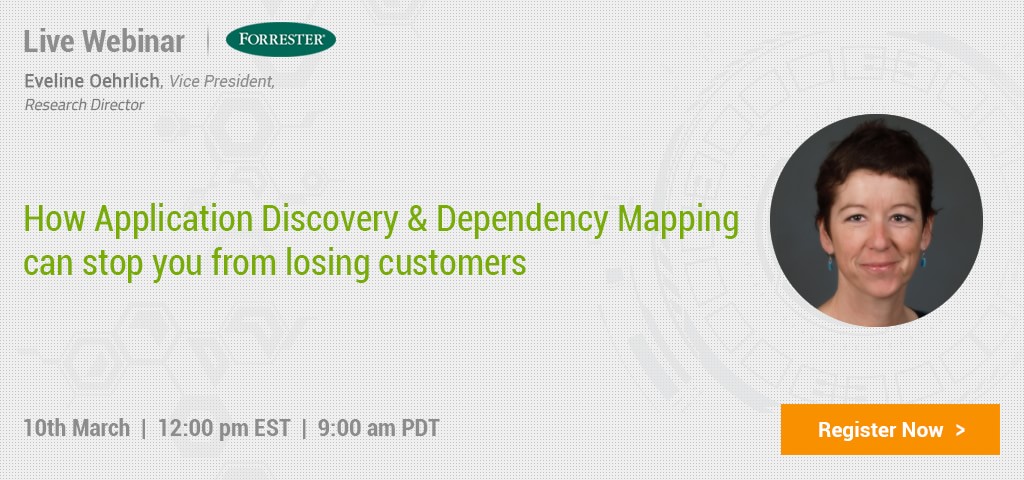 ​
With
ever shortening technology life cycles, change is not only constant but also quite frequent in today's IT enterprise. So can your business keep up with such rapidly evolving IT
? To stay on top of the change management game, you need to know exactly WHAT components
​
constitute
your IT setup, exactly WHERE each of them are, HOW they all are interconnected, and WHICH business service depends on each component. Otherwise, your IT will perpetually be one domino fall away from collapsing upon itself.
Even a single unplanned change being introduced could potentially cause effects that ripple throughout your organization's IT.
By the time you
​
g
et down to the root
cause
and take
…
READ MORE

​
Recent enhancements
a
nd
i
ncreased
customer acceptance have
plac
ed Applications Manager as a Challenger in *
Gartner's
APM
-Magic Quadrant 2014.
Over the last few years, changes in the business landscape have accelerated the adoption of application performance management (
APM
) in  organizations. With hundreds of
APM
tools vying for attention, it's difficult for organizations to choose the perfect tool. Cost, complexity, and features figure prominently in the evaluation
process. Gartner
plays an important role in this market in terms of suggesting the right
APM
tools for various industry verticals. To help organizations make informed decisions and formulate a sound
APM
strateg
…
READ MORE
"
Five top tips for job-seeking IT graduates
" presents the job skills Raj Sabhlok, president of ManageEngine, believes will get you employed. Australia's 
Technology Spectator
 apparently agrees because the magazine covered Raj's article. Want to cut your inbound help desk inquiries by 30%? That's what Certis Europe did. Check out "
Certis Europe benefits from Application Manager
" in 
Computer Business Review
. The article explains how the crop protection company dramatically cut inbound help desk inquiries with ManageEngine's Application Manager.
"Real-time IT should be the goal of of systems m
…
READ MORE
Every year at Oracle OpenWorld, Oracle technologists, customers, and partners come together to learn, discuss, and optimize Oracle. This year, it's slated to be held at the Moscone Center in San Francisco between September 22 and 26, 2013. We'll be there this year as well. So, if you plan to be at the event, join us at booth #2220. At the booth, our experts will be exhibiting and conducting live demos of
Applications Manager
, our application performance monitoring solution. Using Applications Manager, you can proactively track performance of your business-critical applications and servers, regardless of whether they are running on physical, virtual, or cloud environments. You can also monitor the…
READ MORE
In today's complex business environment, the first question thoughtful IT leaders ask when
considering any new IT investment or change is, 'How will it impact the business?' That the
business depends on well-managed IT is well understood. What is less well understood is how an
IT organization can manage an infrastructure that is growing ever more complex. It's not just the
network infrastructure that IT teams need to consider; it's not even the increasingly complex
application infrastructure that stands between the
…
READ MORE
We recently introduced a new edition to Applications Manager – the  Cloud Starter Edition. As the name suggests, the Cloud Starter Edition is ideal for SaaS startups and businesses looking to get started with offering cloud services. We thought it would be fun to illustrate all the details about the cloud Starter Edition as a neat infographic. Enjoy!
For a detailed comparison between the various editions of Applications Manager, refer
this comparison chart
.…
READ MORE
Hello All,
Finally after a month long blog campaign running around Real-time IT, It's time to bring in the last blog of the series. Today I would talk more on summary per se and also on Gartner's research article written by noted analyst Jonah Kowall on 'How to augment APM tool with other conventional monitoring tool' which is attached in the eBook. We are finishing this series with a Webinar on January 25
th
. One of the ManageEngine IT360's key MSP customer Adam Dunlap, Director, IT network solutions, Appalachia Technologies will also join the webinar from Pennsylvania, USA to talk about the benefits of Real-time IT and how ManageEngine IT360 is helping him to gain that visibility into his bus…
READ MORE
Hi All,

Yes, Yes!; the dissection of Real-time IT continues. From laying the introduction foundation of real-time

IT

to talking about business needs of the same, I shall talk about one of the most important technical aspects of real-time IT­- an end user's quality of experience. Why is this important? Well, I see this as the junction where end users and technology meet. This is where organizations must make sure that all the parameters and underlying supporting infrastructure should work perfectly to give an unmatched experience to end users.
Gartner says, "End-user experience monitori
…