I know many of you would already have a separate project management tool for managing your IT and would have jumped to the conclusion that you don't really see the need for a Project Management module in a help desk. First things first! The Project Management module in IT might not seem any different from the regular tool already existing in your setup, but certainly comes with its merits: The advantage of a value-added integration to your help desk makes a world of difference in the way you handle your IT.  Let's see how.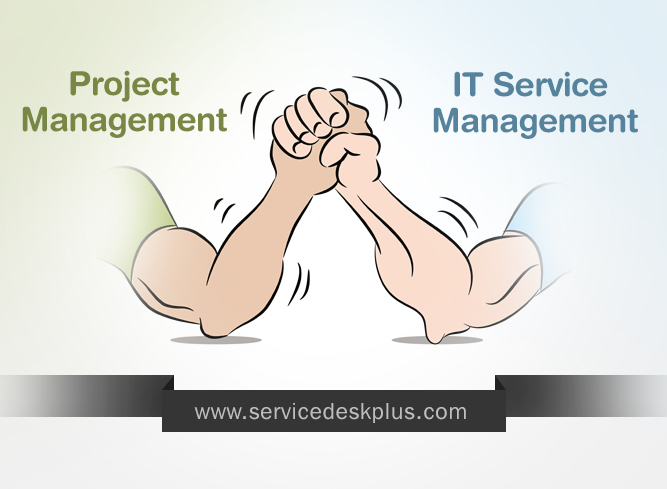 Configuring and setting up an ITIL environment is an enormous task with many hurdles that includes people, processes, third-party tools and various other factors. Having a separate Pr…

Service Desk Plus
Civil Air Patrol – California Wing
Who is Civil Air Patrol?
The Civil Air Patrol is a Nonprofit 501(c) (3) organization with three (3) primary missions Cadet Programs, Aerospace Education and Emergency Services. We have some 3500+ members in the California Wing that are involved in some way with one of those three (3) missions. Our all-volunteer Information Technology department is responsible for working with many of these members to support, maintain and implement different types of technology and/or infrastructure. With a geographic area as large as ours we have many different people involved in fulfilling those requests for support, maintenance and implementation. More i…
Wouldn't life be easier, if there were an app that could simply take care of your IT help desk requests on your command? Yes your wish is granted, introducing first of a kind, Voice -driven ServiceDesk Plus Mobile App. ServiceDesk Plus mobile app just listens to what you say, understands what actions you want it to perform and delivers it accordingly. It is built with Nuance Dragon technology, which has the capability to listen and handle the tickets On–the-go.
More details:
1.Reduces help desk response time by executing commands just by speaking.
2.Built over Nuance Dragon technology.
3.Not just speech to text features has intelligence to perform actions over commands.
4.Enables to multitask and work …
The morning after the itSMF 2012 Awards Dinner is possibly not the best time to schedule the session that was most likely to pique attendees' interest. But Aale Roos' presentation on Unlearning ITIL was one that many wanted to hear, even if the initial slides were more about the well-known inaccuracies between ITIL v3 and the 2011 editions.
In the wider business world, we recognize that much of the work we do leverages IT capability into the non-IT Space, although as Aale pointed out, between a new customer demand and fulfillment, there can be up to 9 disparate processes.  And it is a safe bet that consumers who effectively order services will not be spending any of their time analyzing the underlyi…
We've got a great news !
It's just been a week since ServiceDesk Plus was voted as WindowsNetworking.com Readers' Choice Award Winner in Help Desk Category and we have more good news to cheer about. We have been voted twice in a row.
"Our Readers' Choice Awards give visitors to our site the opportunity to vote for the products they view as the very best in their respective category," said Sean Buttigieg, WindowsNetworking.com manager. "WindowsNetworking.com users are specialists in their field who encounter various solutions for Enterprise Networking at the workplace. The award serves as a mark of excellence, providing the ultimate recognition from peers within the industry."
We feel p…
Problem management is one of the processes that is often disregarded or ignored as not being important or critical, when in real time it is avoided due to lack of time. Problem management is simple and when understood properly and executed with discipline, it is quite easy to implement.
Purpose of Problem Management :
"The primary goal of problem management is to reduce adverse impacts caused by incidents and to avoid the recurrence of problems related to these incidents."* More importantly, eliminating the root cause ensures that the incident itself doesn't repeat again.
During a recent consulting scenario, we came across a "wi-fi not working" incident. Users in a specific zone were unable to a…
When I started at my current employer, help desk requests were handled by a shared e-mail box. Each technician had a folder underneath the inbox. Requests would be "assigned" by moving an email from the inbox to one of those folders. If a user called to report an issue, there was a good chance it was never recorded. Providing the user with an update on their request was extremely painful.
It didn't take long before my search for a true help desk tool began. ServiceDesk Plus' easy implementation and attractive price set it apart from competitors. The product has been running in our environment since 2005.
Then this year, we began disaster recovery planning. During initial meetings, it became clear that th…
There is no excuse for not having Change management.
If you are a one man band or if you have a very small team, you are most likely very busy man. Not only do you have to work on day to day user requests, you also have look after the servers, update windows clients, windows servers, spam filtering for email system, look after exchange or similar, look after virtual infrastructure, Citrix clients…. Have I missed anything? Please add it to the list.
What happens if you or a member of your team do a change, and later discover that something is broken?
How do you revert the change?
Do you know what you or member of your team did?
Do you still remember after one week, which spam filtering rule you altered?
And what you need …
In part one, we saw how can we can handle bug management in ServiceDesk Plus. If you have a need to manage bugs, then most likely you need to manage modifications to the system as well.
Modifications to the system (ERP, Finance, Warehousing, POS…) are very important, not only do they benefit your company by extending functionality to the system or maybe speeding up to process, they also cost a lot of money.
Usually there is a group of people inside organization who are responsible for making decisions what functionality is needed in the system. Attendees can be from various departments, sharing their view what is lacking in the system or which functionality would benefit their work. Also present would be C…
One of the most ignored fields of IT management is Operations Management. It took ITIL until 2007 before recognizing it even as a topic, but we still lack a lot of information about the Operations Management process. I've been looking at this topic since early 1992, and wondered why we all just seem to ignore the one process where it actually happens: the process where we really handle the IT infrastructure and produce the IT service. All other processes are just paper tigers: paper (requests) go in, and other paper (orders) come out.
In 2001, I produced a pocket guide on this topic called "Operations Management, a new process". The book was translated into English in 2004. It is sold out now (a…