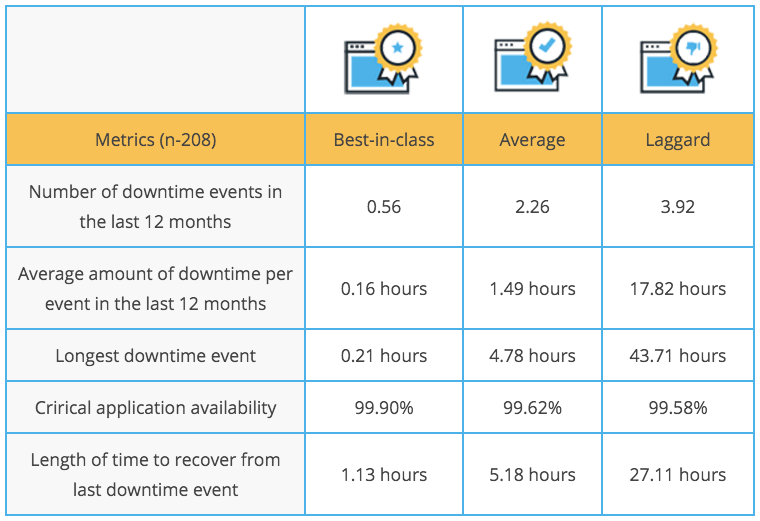 Earlier, I introduced the eight KPIs that are critical to every IT help desk. These KPIs help meet basic IT help desk objectives such as business continuity, organizational productivity, and delivery of services on time and within budget. This blog post discusses the first and most important KPI that every IT team and business should care about – Lost business hours.
Definition: The number of hours the business is down because IT services are unavailable.

Goal: Keep lost business hours to a bare minimum.
Most IT teams track service availability to see the overall performance of their IT help desks. But the pain of lost business isn't always reflected in service availability levels, even when …
READ MORE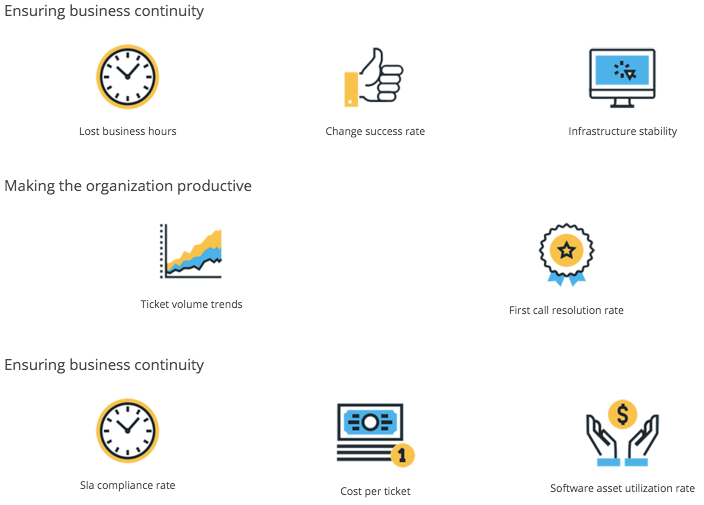 People often say "what gets measured gets improved," but they rarely say what, exactly, should be measured. With  the recent developments in the reporting capabilities of T help desk software, hundreds of KPIs and metrics can  be measured and monitored. But that doesn't mean  you should measure them all. Only the KPIs and metrics that are critical to your IT help desk need to be measured to improve service delivery.      
This blog series describes  the eight KPIs that are critical to every IT help desk. These KPIs help meet basic IT help desk objectives such as business continuity, organizational productivity, and delivery of services on time and within budget. The KPIs are as fo…
READ MORE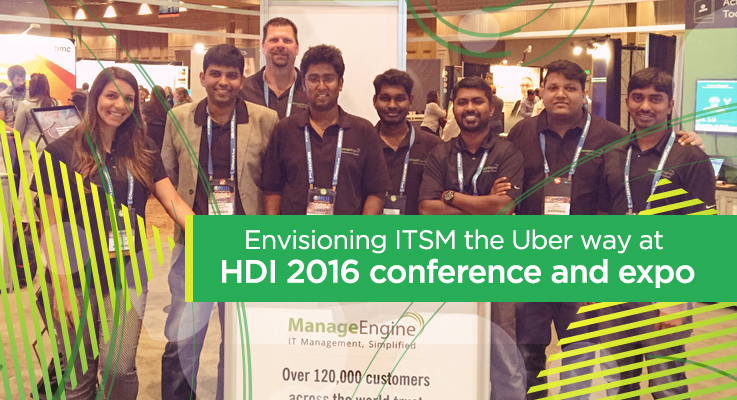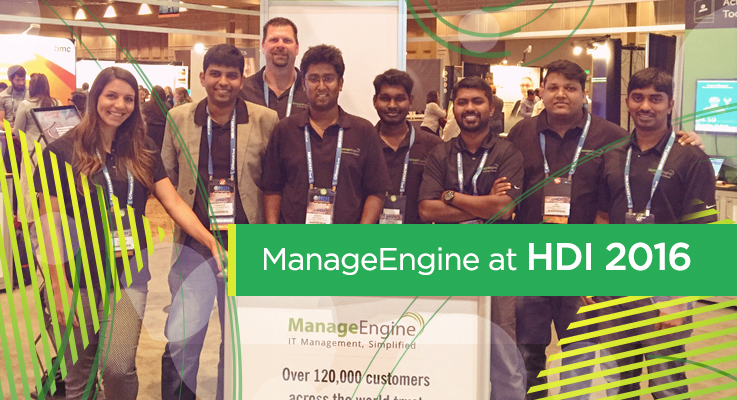 The HDI 2016 Conference and Expo happened last week in Orlando, Florida. For ManageEngine, it was a busy, engaging, and a very satisfying experience. IT admins, help desk managers, and others walked into our booth to check out the host of ManageEngine products, keeping us on our toes throughout the day. ManageEngine's flagship product, ServiceDesk Plus, was in focus.   A few customers walked in and shared  their ServiceDesk Plus experiences with inquiring visitors—let's call it word-of-mouth marketing!
As always, the HDI event was  packed  with keynote speeches and multiple learning tracks. The expo floor buzzed with action as attendees shared their help desk stories,  pain poin…
READ MORE
This final blog post from our ITAM best practice series will show you how to continuously improve your ITAM process. The goal is to keep asset information up to date and identify key areas of improvement.
To continually improve, you need to keep refreshing your asset database and CMDB regularly with different scan techniques. You can also automatically schedule scans to track changes to the IT asset database. Broadly, these changes would mean additions, modifications, and deletions to the asset database.
Changes to asset database
Activities such as…
New purchases

Newly leased equipment

Assets scanned from a newly acquired facility

Mobile devices scanned under BYOD policy
…would requir…
READ MORE
In this blog post from our ITAM best practice series, you will learn how to conduct self audits. The goal is to carry out formal internal assessments for compliance and audit readiness.
Here is why self audits are important. Being compliant and audit-ready ensures that you are in control of your IT, and that you have already curbed a lot of unwanted IT spending. Real audits may occur any time, and therefore you need to ensure that you are always audit-ready. Conduct self-audits for all your vendors at least twice a year. 
Now, let's take a look at the benefits of conducting internal self-audits
Serves as an early warning system.

Helps you save huge fines and penalties.

Reduces existing discrepancies in

…
READ MORE
In this blog from our ITAM best practice series, you can learn how to keep tabs on the metrics that matter. The goal is to track the right KPIs to drive better decisions.
Generating specific ITAM reports can help you accomplish specific objectives. Let's take a look at a few of those objectives and their corresponding reports. 
If formulating an effective IT budget is your goal, track the
Average cost of a workstation

Average cost of a license

Total asset spending, broken up by vendors

Total value of assets owned
If you are looking to stay license compliant, look at the
Ratio of used to purchased licenses

Software licenses by expiration date

Number of licenses available 
If you need to make effective pu…
READ MORE
A few weeks ago, we asked you to show us your service desk. Many of you did. In fact, we saw some of the messiest, most creative, and most interestingly organized service desks from across the world. Sure, they're all pretty darn impressive, but our judges had the tough task of whittling down your entries to a short list of winners. Here it is:
Chanakarn Waraporn

John Schmidt

Rachel Andrew

Robert Smith

Mike Hamilton
Congratulations to all the winners. Please look for an email from us about how to claim your prizes. And to everyone else who participated, a huge thank you!
We commend the creative and organized service desks and cheer on the messy ones trying to establish order. If you'd like ServiceDesk P…
READ MORE
In this blog post from our ITAM best practice series, you will learn  how to make ITAM work with other ITIL processes. The goal is to understand how your IT infrastructure is mapped to other business services.
Here are a few prerequisites for an effective ITAM-ITSM integration. Make sure your technicians and end users adhere to these prerequisites.
1. Make sure to map your workstations to end users
Mapping your workstations can help you effectively track and manage a specific end user's workstation for quick analysis. You will also have a count of workstations that are currently in use, which can help you tackle fluctuations during ad hoc asset requirements.
 2. Build a comprehensive CMDB to get on…
READ MORE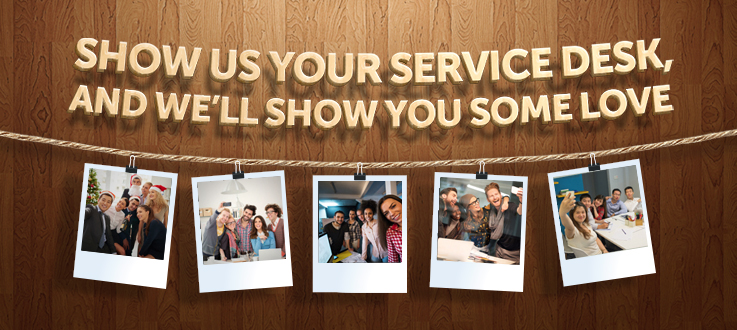 Your desk says a lot about you. Turn around and take a look at your desk. Does it say you're…
the creative type, who likes being surrounded by random, quirky knickknacks?

the messy type, with a mountain of papers, manuals, and soft drink  bottles lying around?

the "cleanliness is next to godliness" type, whose desk would meet ISO cleanroom standards?

some other type that we've never even heard of?
Whatever the case, let us see your desk. We won't judge. We just want to see how you actually work! 
So take a moment to slow down and smell the mistletoe this holiday season by snapping a picture of your workspace. Get your whole team in there if you can – just make sure we can …
READ MORE
In this blog post from our ITAM best practice series, you will learn how to manage software and licenses in one place. The goal is to optimize software license usage, stay compliant, and ensure timely renewals.
Here are some simple steps to ensure that you stay software compliant
1. Study existing software and licenses
Scan and identify all your existing license details and deployments. Learn what type of licenses you own, when they will expire, and if they are linked to any contracts. 
2. Choose license types that will suit your needs
You will have a wide choice of license types such as volume, individual, OEM, CAL, concurrent, and perpetual to choose from. You need to do your research to identify the type o…