This Week's Five is a weekly column on five recent reads from all over the web. This week, we'll talk about digital transformation.
It works that fast: I was sipping coffee and surfing the internet when I looked up to see a security camera recording me, and feeding this near real-time data to a data center. I realized then that I had become part of the same digital world I was surfing. It hasn't always been like this. It's taken a long time for digital transformation to get where it is today. In general, it takes a lot more time, technology, and resources than the average person imagines.
So what exactly is digital transformation all about? And why should we care about it any way? Well, there a…
READ MORE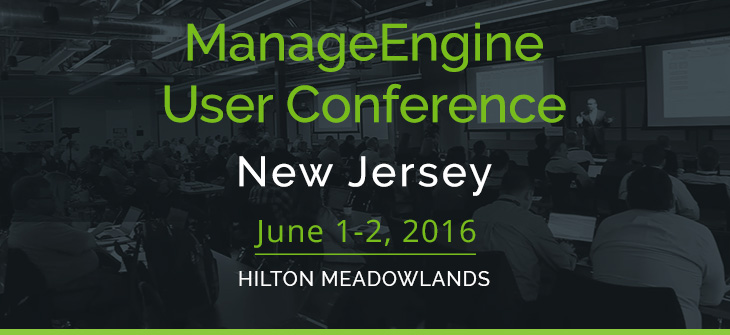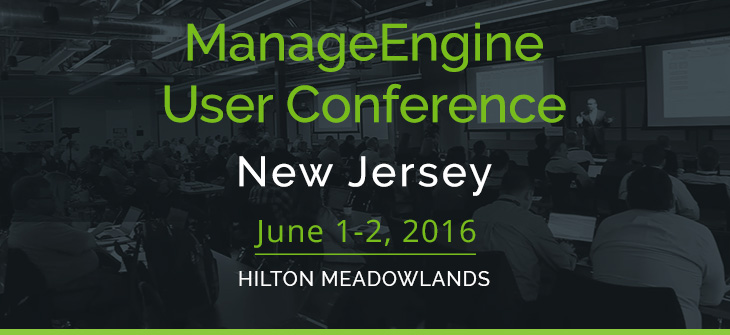 Drum roll please: The ManageEngine user conference is coming to New Jersey!
Come join other ManageEngine users on June 1-2, 2016, in New Jersey and learn new ways to make managing your IT even more fun. We know—we didn't think it was possible, either.
You are invited to our two day event filled with presentations, hands on demonstrations, question and answer panels, and one-on-one sessions to help you make IT management simple, fast, and efficient. You can also network with our experts and other ManageEngine users.
At UserConf16, you will gain insight into our solutions for IT service management, IT operations management, Windows Server and Active Directory management, Device management, and IT …
READ MORE
Well, that was fast. Less than two weeks after SolarWinds committed to reviewing its "strategic alternatives," the review is complete and the alternative chosen. The winning strategy? Go private.
Yesterday, SolarWinds announced that it is being taken private by Silver Lake Partners and Thoma Bravo, two prominent private equity firms. Technically, this is an acquisition. For SolarWinds stockholders – including SolarWinds management – it's great news that pays $60.10 per share. For SolarWinds customers, the jury is still out.
I don't have crystal ball, but I've been through the "go-private" drill. Under a go-private structure, a company pays out shareholders by rai…
READ MORE
One of the earliest in-flight entertainment (IFE) systems was believed to have been inside the airship Hindenburg, which offered passengers a piano, lounge and bar as entertainment. The definition of in-flight entertainment has changed over the decades. From pianos to personal audio players and seat-fitted screens, we've come a long way.
The state-of-the-art IFE was on display earlier this year at the Paris Air Show. There, attendees found IFE systems that use iris-tracking technology to pause programs when passengers stop looking at the screen and restart the programs when the passengers' gaze returns. Other advances at the show enable IFE systems to sync with personal devices to make IFE more us…
READ MORE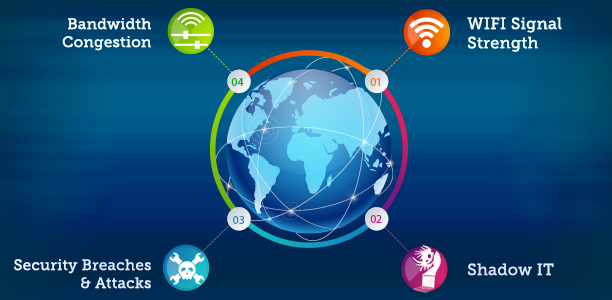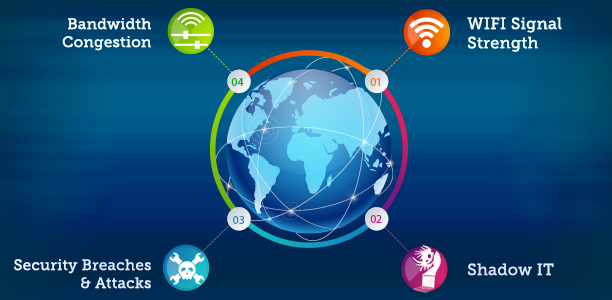 Mobile-device adoption for day-to-day business activities has been on the rise thanks to BYOD, smartphone proliferation and high-speed wireless networks. According to ABI Research, the number of active wireless connected devices is expected to grow from 13 billion in 2013 to 40.9 billion in 2020. That's massive!
Today, users are no longer tied to their desktops or laptops thanks to mobile technology. They can reply to important business emails, access their CRM systems, collaborate with peers and share files—all from the cafeteria to the parking lot. This situation implies that it's high time for enterprise network admins to recognize that wireless networks are just as important as their wired …
READ MORE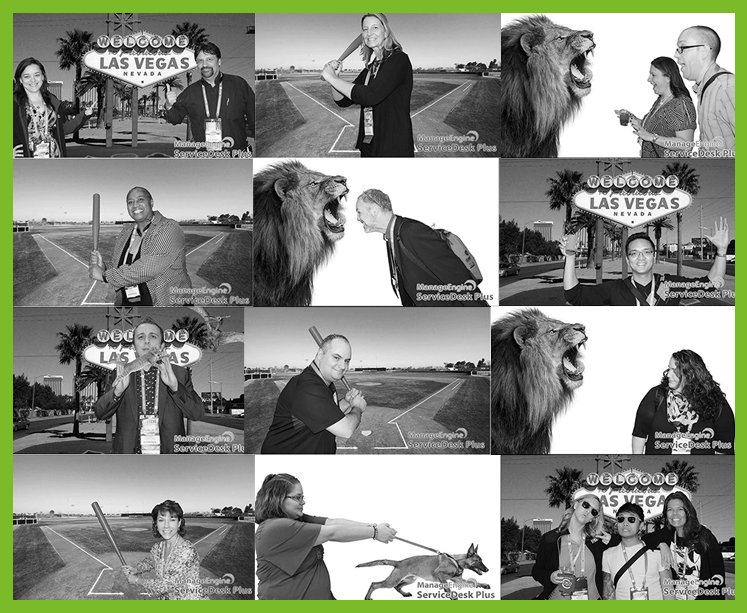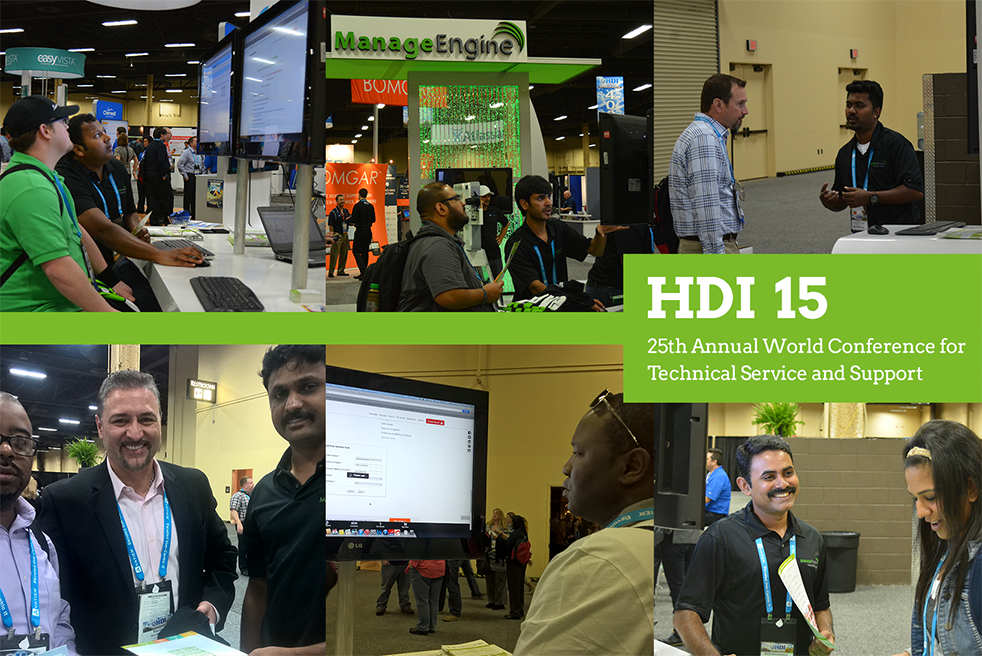 This year's HDI conference happened in the fabulous Las Vegas between March 24 and 27. ManageEngine was the only diamond sponsor of HDI 2015, which was attended by more than 2,400 professionals and 70 ITSM solution providers. The event provided a platform for the ITSM industry to come together, discuss, and share knowledge. The participants got to hear industry experts discuss strategies to achieve service management excellence. The event had training sessions and product exhibits. And needless to say, booth #202 was buzzing with activity, with visitors queuing up to get a peek at ServiceDesk Plus, the flagship product of ManageEngine. They sure kept us on our heels with the…
READ MORE

Join us for the free webinar, The Science Behind Effective Service Catalogues on Thursday, March 19 at 2 PM AEDT (Sydney, Australia time).
James Gander, IT service management and operations consultant, will be our speaker for this webinar.
The date: Thursday, March 19, 2015
The time: 2 PM – 3 PM AEDT (Sydney, Australia time)
Awesome: Definitely
In this webinar, you'll learn:
The value of service catalogues to organisations

The three different types of service catalogues

How to build a service catalogue from the ground up
Click here to view our earlier webinars.
PS: Let your friends know about this webinar as well!
…
READ MORE


When Steve Jobs launched the iPhone in January 2007, it marked the birth of a new era in mobile technologies. The mobile revolution has come a long way since then with enthusiasts now talking about wearables, targeted apps, remote charging, and more. In the next two years, the Internet of Things will make automation a part of daily life.
Businesses are also taking part in the mobile revolution by using mobile technologies to improve employee productivity and customer loyalty. But this adoption of mobile technologies by businesses has not come without challenges. For example, company CIOs are scrambling to put management controls on mobile computing, such as bring your own device (BYOD) policies. IT manage…
READ MORE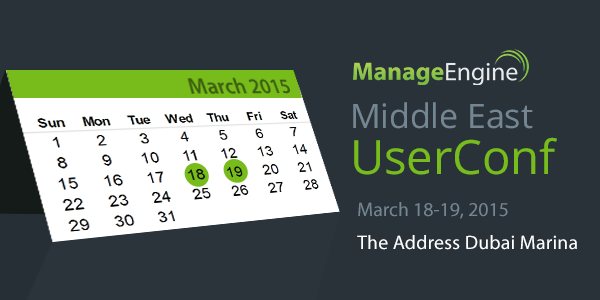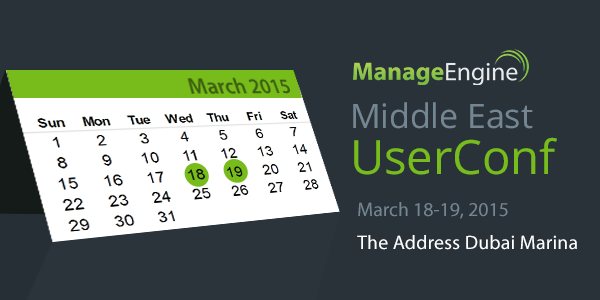 Mark your calendar for March 18 and 19, 2015; the ManageEngine UserConf15 is en route to the Middle East, and we can't wait to meet you all there.
Here's a snapshot of what you'll get by attending this user conference.
1. Learn about
Managing incidents, service requests, assets, and change and service levels of your IT.
Maintaining high uptime of applications and websites.
Monitoring networks, servers, and virtual environments.
Effective user provisioning and management, exchange server auditing, and real time IT audit and compliance.
Neutralizing internal and external threats to IT security.
2. Participate in 1-on-1 discussions with a ManageEngine product expert and check out n…
READ MORE

As companies look towards 2015 and beyond, they will need to use technology to achieve  business objectives and win against the competition.
Join us for a free webinar on 8 Ways to Align IT to Business on Thursday, the 29th of January at 2 PM AEDT (Sydney, Australia time) by Claire Brereton, IT governance consultant and director, ITSMF Australia.
Claire has been the CIO of organisations in diverse industry sectors, including healthcare, financial services, and manufacturing. She was also recently honoured with the title FACS (Fellow of the Australian Computer Society) for her contribution to the IT ​industry.
The date –  January 29, 2015 (Thursday)
The time – 2:00 PM – 3:00 PM AEDT (Sydney, Austr…