Is Google preparing another "moon shot"? The barge discovered in the San Francisco Bay this week hints at it, and rampant speculation has Google building a floating data center. Google hasn't confirmed any ties to the barge, but many observers find it more than coincidental that the company filed for a floating data center patent in 2008.
Since this story broke, the Coast Guard confirmed that the barge is owned by Google, but a confidentiality agreement prevented the discussion of any other details. Basically, Google placed a gag order on the Coast Guard. In any case, the operative question becomes, why would Google be experimenting with an offshore data center?
The Data Center Power Problem…
READ MORE
Today, we're moving our office in Pleasanton, California, to – drum roll, please – another office in Pleasanton, California. What can we say? We like it here.
What this might mean for you is a temporary disruption in our local phone service at 925-924-9500. If that service is, indeed, compromised, and you need an alternative local number. please dial 408-916-9876.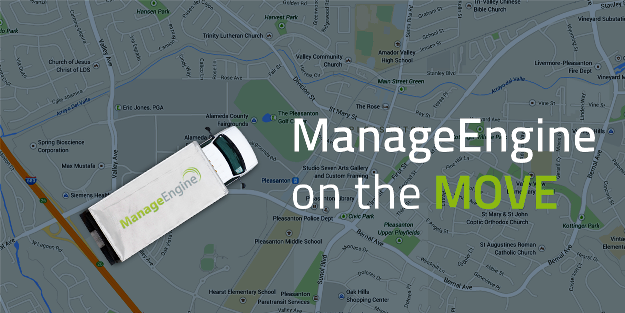 Our toll free numbers should be unaffected during the move. You can reach ManageEngine at 888-720-9500. Zoho can be reached at 888-900-9646.
Other than that minor, potential glitch, we expect this move to be completely transparent for you and the rest of our ManageEngine customers, partners, and fans.
Can't wait to map our new locati…
READ MORE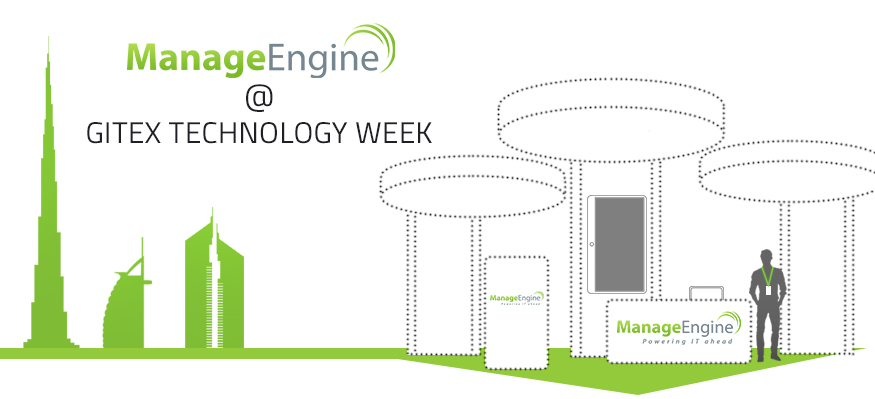 ManageEngine is gearing up for the largest technology show in the Middle East: GITEX. This is our seventh straight year at GITEX, and this time, we'll showcase our entire range of solutions, from network to security.
IT security was a top concern among the GITEX 2012 attendees who stopped by our booth. We had many organizations express interest in our IT security solutions, which are helping enterprises, banks, financial institutions, and education institutions in the Middle East improve productivity, reduce costs, bolster security, ensure reliability, and offer better service to their customers.
If you'll be at GITEX 2013, please visit us in Hall 7, booth A 7 - 10, where we'll de…
READ MORE

This Week's Five is a weekly column of five interesting reads from all over the web.
With the emergence of advanced technologies in network management, networks have become more flexible and efficient. Network visualization, replacement of hardware devices with software, control of data centers from the cloud, etc. are opening new vistas for network optimization. Here are some articles that talk about the current trends in networking and what lies ahead for it.
Is SDN the innovation the industry never knew it needed?
Is SDN that new and better way of looking at networking? Is SDN the iPhone-like paradigm shift the industry needs to develop a whole new set of apps that have not been possible with…
READ MORE
This Week's Five is a weekly column of five interesting reads from all over the web.
This time we bring you a bird's eye view of all that has created a strong buzz in the IT world! Read on to know more.
Plan for Big Data, but not too much.
Don't begin with the end in mind. Allow big data to surprise you!
http://www.informationweek.com/big-data/news/big-data-analytics/big-data-planning-start-slow-let-it-grow/240160214
Forrester:  Survey data dispels 'myths' about software industry trends in 2013
BI (business intelligence) takes the lead, according to a new Forrester report on 'myths' and 'realities' in the software industry
http://www.…
READ MORE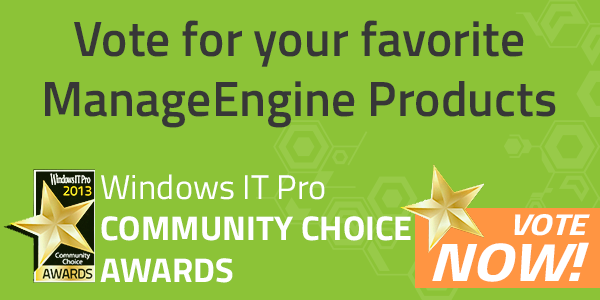 The annual Windows IT Pro Community Choice awards are back once again, and ManageEngine needs your help to win. The awards offer a unique way for the Windows IT Pro community to determine their favorite vendors and products on the market. ManageEngine products have been nominated in several categories, and your votes can help to ensure your favorite ManageEngine tool wins the Gold!
To make it easier on you, we've given you a head start in the voting process by listing the categories and ManageEngine products nominated. Take a look below:
# 1: Best Active Directory & Group Policy Product: ManageEngine ADManager Plus (in line for its hat-trick award having won it in 2011 and 2…
READ MORE
Black Hat USA bills itself as "the show that sets the benchmark for all other security conferences." While most conferences tend to over-promote themselves, given the activity at this year's show, that actually might be something of an understatement.
From the defense of government surveillance delivered by NSA Director General Keith Alexander to briefings on the coming "cryptopocalypse" and the risks associated with embedded devices and the Internet of Things, Black Hat reminds us that a little bit of paranoia is warranted in today's connected world.
Here are my leading candidates for surprising, damaging ways criminal hackers are breaching our online security and val…
READ MORE
It is hauntingly clear – cyber criminals have set their eyes firmly on universities, research institutions, and centers of higher learning in the United States and other parts of the world. If the cyber attacks of the past few weeks are any indication, universities are now facing the biggest threat to information security.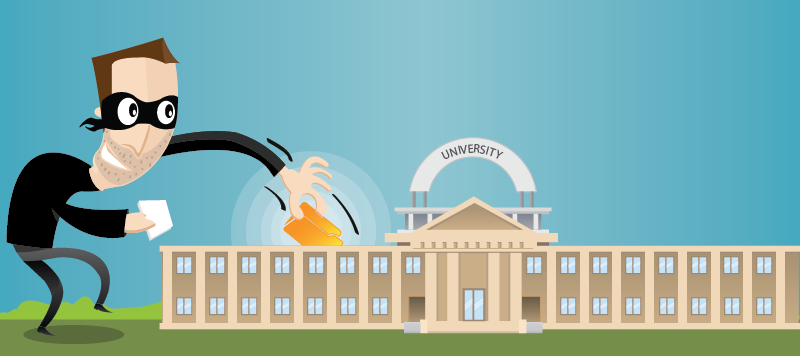 Attack landscape
On July 17, 2013, personal information of more than 72,000 staff members (past and present) of the University of Delaware in Newark was compromised. Hackers  obtained the information (names, addresses, social security numbers, etc.) by exploiting the vulnerability in a third-party software that the university used.
On July 18, 2013, during a routine security sca

…
READ MORE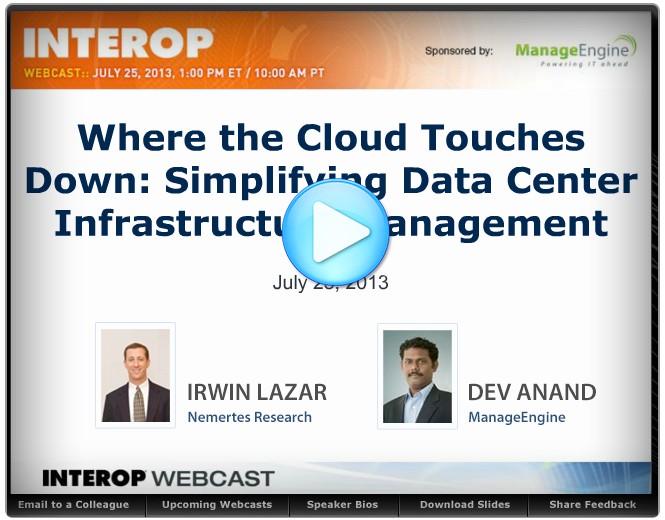 In most data centers, DCIM rests on shaky ground: manual record keeping and scattered documentation. Data center managers maintain–and wade through–wikis, spreadsheets, text files, and un-integrated freeware tools and databases just to find two things: What is that we manage? and Where is it located? The biggest problem with all this documentation is that it is maintained manually, and who has time to do it perfectly? Moreover, locating an asset quickly is almost next to impossible, and because sources are scattered and ad hoc, the documentation often fails to capture how assets relate to each other.
OpManager helps you bridge this gap between the documentation you have and the documentation you ne…
READ MORE
This Week's Five is a weekly column of five interesting reads from all over the web, with a different topic each week. This week, we'll explore the latest trends in the IT market.
In the IT space, trends are dictated by:
Unprecedented demands for certain technologies from end users or business organizations
Potential for disruption to IT or the enterprise
Let's take a sneak peak into few disruptive technology trends in 2013.
BYOD - At the highest level, there are three important things to know about BYOD: It's here to stay and is all set to grow; the potential risks are real, so mitigation is required; and it can't be ignored or wished away.