This week's five
is a weekly column on five recent reads from all over the web. This week, we'll talk about the
future of IT management
.
How fast does technology develop? We don't have to explain Moore's law to answer that—it's pretty obvious
. Just over a hundred years ago, humans flew for the first time. Now, we have the
Voyager-I wandering beyond our solar system's boundaries. Amazing, isn't it?
And how fast
is
digital technology growing? Well, it's definitely
faster than flight technology. I'd say now is a good time to prepare for your IT's
future
, because it may come faster than you
expect
. 
Take hybrid clouds, for example. A hybrid cloud is an in
…
READ MORE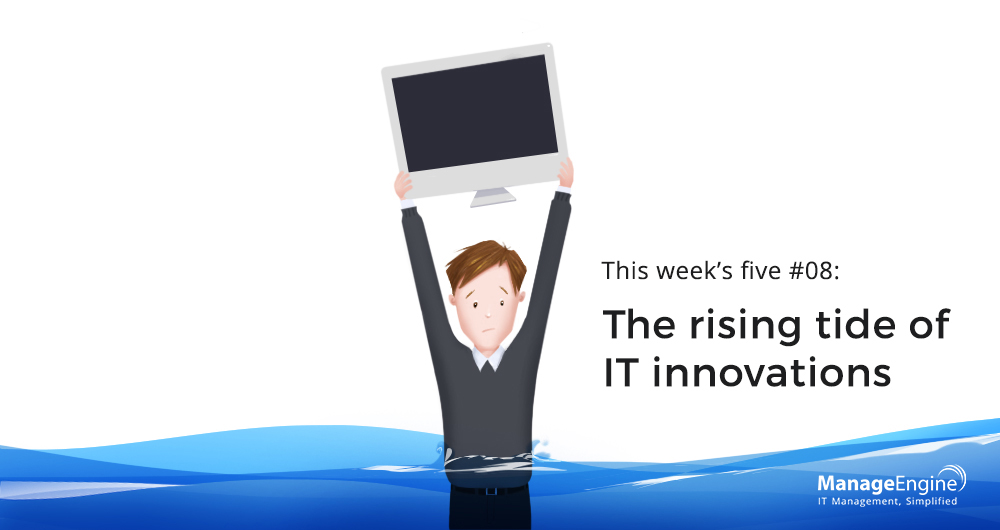 This week's five
is a weekly column on five recent reads from all over the web. This week, we'll talk
about the
risks and challenges involved with IT innovations
.
Digital transformation has taken many shapes over time. There was a time when installing a room-sized mainframe was
the
big step for digital transformation. Today, there's no one big step. Instead, there are several. The cloud could be called
a big step. Mobility could be called a big step. E
ven
IoT
could be called a big step. All these technologies are like
waves. And the rising
tide
, whether good or bad, always brings something extra along with it. In short, digital transformation doesn't come without risks and challenges.
Compared
to the cl
…
READ MORE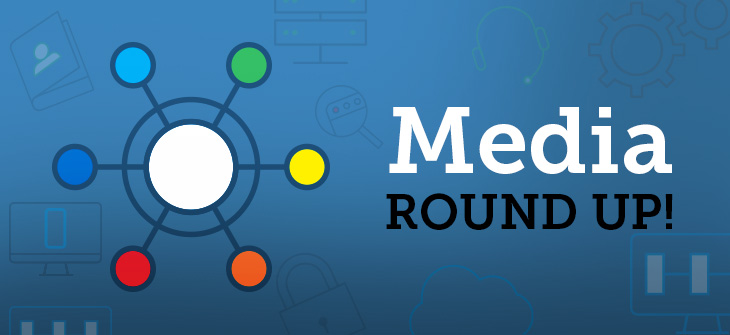 Here's a round up of the latest media coverage on ManageEngine. We all know there's a growing demand to improve IT service delivery and efficiency. And in order to improve, you have to know what went wrong. But how? All roads lead to analytics tools—you can analyze data from your service desk to identify inefficiencies.
Bring your data to life!
Did you know that
one-third of businesses depend on end users to report application performance issues? Here's the colorful proof!
Where is identity management heading? Deep into the world of
pas***rds.
With almost 100 million new businesses launched every year globally, free tools and software to run IT by prominent players like ManageEngine a…
READ MORE
With a rapidly changing business landscape, applications usually drive the enterprise. As proof, a Gartner study reveals that in 2015, the annual IT application development investment was roughly 35 percent of total IT spending. In turn, any organization that is investing substantially in applications should have around-the-clock mechanisms to ensure optimal functioning of those apps, especially since service disruption leads to dissatisfied customers and diluted brand equity. Here's how to use a monitoring system to elevate your customers' satisfaction with applications:
Experience What Your Customer Does
Customer experience is an important dimension of marketing and has bec…
READ MORE
Have your users ever had to worry about a network breach? Have they ever considered what might happen if a fire broke out in your server room? Do they simply take it for granted
that the Wi-Fi and printer work without fail, day in and day out?
If everything IT is running smoothly, let's be real—it's mostly because you are an awesome sysadmin who takes care of everything!
The entire office would probably fall apart if it weren't for your heroics, going out of your way to help keep the business afloat.
As a sysadmin, you encounter all sorts of people in your quest to ensure problem-free IT—
people like those below, people who make an already challenging job even harder. And if you haven't encou
…
READ MORE
This week's five
is a weekly column on five recent reads from all over the web. This week, we'll talk about some facts and figures
on
digital transformation
.
IoT, cognitive computing, cloud, machine learning, wearable tech. Big names, huh! These are the names
of technologies you should be acquainted with. There's
a set of interconnected
mainframes and devices
— whether hardwired, wireless, or virtual– that your business depends upon. It's called the IT, the nervous system
of your business. And these technologies are going to have
a huge impact on your IT, and thus your business, whether you like it or not. So, you better be prepared.
Digital transformation is buzzing everywh
…
READ MORE
Sysadmins, you know you're awesome, regardless of what your typical end user might think. But what do they know? Sadly, not much. For instance, they don't know… 1. Your power lies in PowerShell. If they asked you what the latest, trending tool available in the market is, you'd know it. If they asked you what else you know, you tell them "PowerShell scripting." Because managing IT without a Plan B isn't an option. Your motto? "When all else fails, there's always PowerShell."
2. You're a certified geek. The word "geeky" does not even begin to describe you. Not only do you act like a geek — with all of your coding, configuring, dep…
READ MORE
This week's five
is a weekly column on five recent reads from all over the web. This week, we'll talk about the
chief information o
fficers.
"More and more, every company is becoming a technology company. We
CIO
s are the leaders and stewards of this new economy."  
– Rob Meilen, 
CIO, Hunter Douglas
Chief information officers. Who do you think they are?
They are senior business executives who handle a company's IT strategy, implementation, and operation
s.
With companies beginning to use multiple and new technologies, the role of a CIO has only become more pronounced. According to a recent
survey
, in the UK alone, a tech company is born every hour. Such an exponential growth fu
…
READ MORE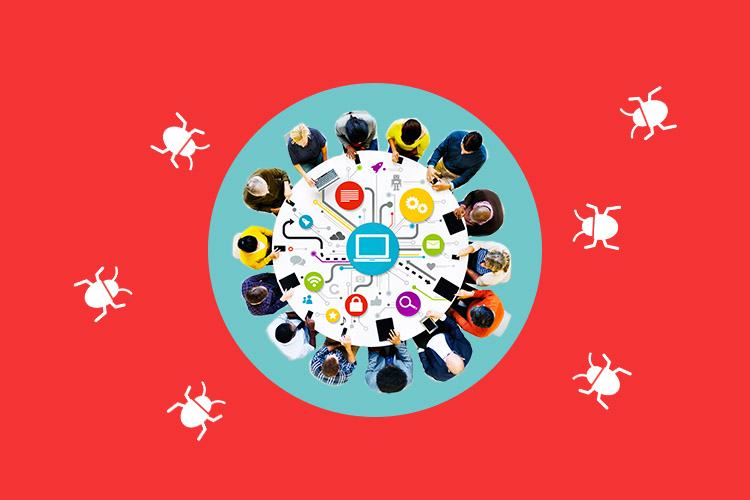 This article was originally published at http://www.cso.com.au/article/597035/proactive-it-security-solution-cyber-crime-an-age-collaboration/
Cybercrime costs the global economy as much as
$450 billion
each year. And the median cost of cybercrime has increased by nearly
200%
in the last five years. Meanwhile, collaboration has become the cornerstone of successful organizations. But collaboration often comes with a risk. The number of cyberattacks will grow as employees increasingly use collaboration tools to maximize their company's productivity. This is because these tools can provide new points of entry for hackers looking to cause damage. This issue could become more serious a…
READ MORE
This week's five
is a weekly column on five recent reads from all over the web. This week, we'll talk about
bimodal IT
.
Christopher Reeve, Brandon Routh, and Henry Cavill are all big names and share one
thing in common
. What connects them is
the fictional superhuman
bimodal
character they have all embodied. And who doesn't love
that character? He's Superman.
He can do it all.
In one mode, he falls
well within most conventional norms and fits perfectly into a world of indifference and acceptance. In his other mode, though, he's a symbol of change. He's something the world has never seen before
, a
nd something the world agrees with. His kind of change is good. His kind of change brings h
…