Around the same time a hundred years ago, chemistry was the most happening thing in the world largely due to the circumstances several nations were going through at that point of time. Governments invested heavily in the field of chemical research and a country that possessed rich chemical expertise was seen to be powerful and that which had an edge over the others. The use of chemical weapons in World war I led nations to victory and empowered them with wealth, influence and power.
Coming back to the present, what is that magic wand in these times that we live in? Today, we live in the 'knowledge era'. It is not nations that are fighting with each other as much (barring a few exceptions), but it is ente…
A round up of the global coverage ManageEngine has received in the last three weeks.
Privileged Password Management Software for MSP's:  At Infosecurity Europe, ManageEngine launched the industry-first solution, developed specifically to address the unique privileged identity management challenges faced by MSP's.
Industry First 'Enterprise Search' for IT teams: Sridhar Iyengar, vice president of product management, ManageEngine shares the benefits of IT360′s unified search console that is capable of searching databases of any third-party IT management and business applications,   without requiring the user to understand the under…
Here are some stats that will blow your mind: Every minute of every day, 48 hours of video content is uploaded to YouTube, Google receives over 2 million queries, over 100,000 tweets are sent and nearly 600 new websites are created. Perhaps most shocking is that quietly in the background, all of this data is tracked and stored. But what happens to it after that?
Obviously, today's Internet is filled with vast amounts of data. When only a few short years ago a search would yield varied results, today search engines, social networks and even advertisers have realized that information must be culled, filtered and targeted for their consumers. In order to do this, many of these services collect data about you. Whil…
New wave of cyber-attacks on banks lend credence to the belief that insider threat is getting complex and cyber-criminals are increasingly targeting to siphon-off the login credentials of employees and administrative passwords of IT resources.

It is termed as the 'massive 21st century bank heist'.  A worldwide gang of cyber-criminals in multiple cities drained ATMs to the tune of $45 million in a matter of few hours last week. While federal investigation is going on, cyber-security experts generally feel that the crime of such a magnitude could not have been committed without deep insider knowledge and meticulous planning for several months. Some analysts even suspect that the hacks might have be…
Social Media emerges the most convenient platform for cyber-criminals; Using the same password across social media and business applications makes your business vulnerable to attacks!
Over 12 per cent of the world population is on social network and the number keeps growing exponentially. Those who do not own an account in Facebook or Twitter are now being viewed as those living in prehistoric times.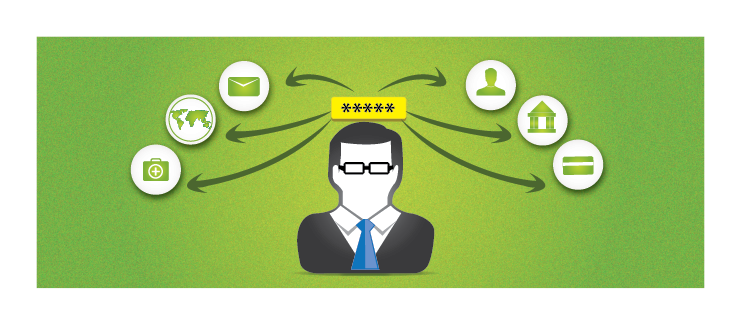 No doubt, social media is wonderful in helping you stay connected with friends, but the sheer popularity of social media attracts the attention of cyber-criminals looking for ways to harvest identities. Recent surveys by IT security analysts clearly indicate that social media has emerged the most convenie…
Google has been talking about an innovative idea to replace passwords with jewelry — that's right, jewelry. Actually, the enabling technology could be hidden in jewelry, such as a ring, which would perform secure cryptographic transactions that would obviate the need for the user to enter a password.
Sounds very James Bond, but the technology operates similar to a Yubico key where the key is plugged into a USB port for authentication to other devices and applications. In this case, presumably the jewelry would communicate wirelessly with whatever was trying to authenticate the user. Great idea, until you lose your key (or ring).
Why you're easy prey to hackers
So why does Google care so much about so…
Just as enterprise IT departments are starting to get a handle on the bring your own device BYOA is what happens when employees bring their mobile devices to work. They're not just making phone calls on their smartphones. They're running apps, too. While that may seem obvious, many of the business implications are not so clear cut.
With nearly two million apps in the Apple and Google app stores alone, it's nearly impossible for businesses to ensure the security and appropriateness of every app that an employee might download on a corporate or employee-owned device. Simply put, public app stores can be "digital danger zones" for businesses.
Bringing on Business Concerns
Security remains th
…
Wouldn't life be easier, if there were an app that could simply take care of your IT help desk requests on your command? Yes your wish is granted, introducing first of a kind, Voice -driven ServiceDesk Plus Mobile App. ServiceDesk Plus mobile app just listens to what you say, understands what actions you want it to perform and delivers it accordingly. It is built with Nuance Dragon technology, which has the capability to listen and handle the tickets On–the-go.
More details:
1.Reduces help desk response time by executing commands just by speaking.
2.Built over Nuance Dragon technology.
3.Not just speech to text features has intelligence to perform actions over commands.
4.Enables to multitask and work …
We all know we should be careful transacting online, but are you thinking about cyber-security when you're watching TV or driving your car?
If you're like me, those flashy new products at last week's CES show probably got you dreaming about upgrading some of your old-school gadgets. The trend today is moving away from stand-alone devices to futuristic "connected" devices, those that can talk to the cloud or even interact with your other systems and appliances.
From game consoles, iPads, smartphones, Blu-ray players and yes, even our cars, internet-enabled devices are growing exponentially, which increases the chance for cyber intrusions. Yet most consumers and businesses don't realize t…
Deploying a password management solution would indeed be the best start towards information security this festive season!
2012 is fast drawing to a close. While looking ahead for a great holiday season and a wonderful New Year 2013, we just looked back and reflected on the year just gone by.
2012 had been fabulous in many counts, but when it comes to information security, it had indeed been a year of high profile security breaches and identity thefts across the globe. Individual users and mighty enterprises alike have fallen prey to hackers. High profile cyber-attack victims this year include Zappos.com, one of the largest online retailers dealing with shoes and apparels; Linkedin, Dropbox and numerous oth…